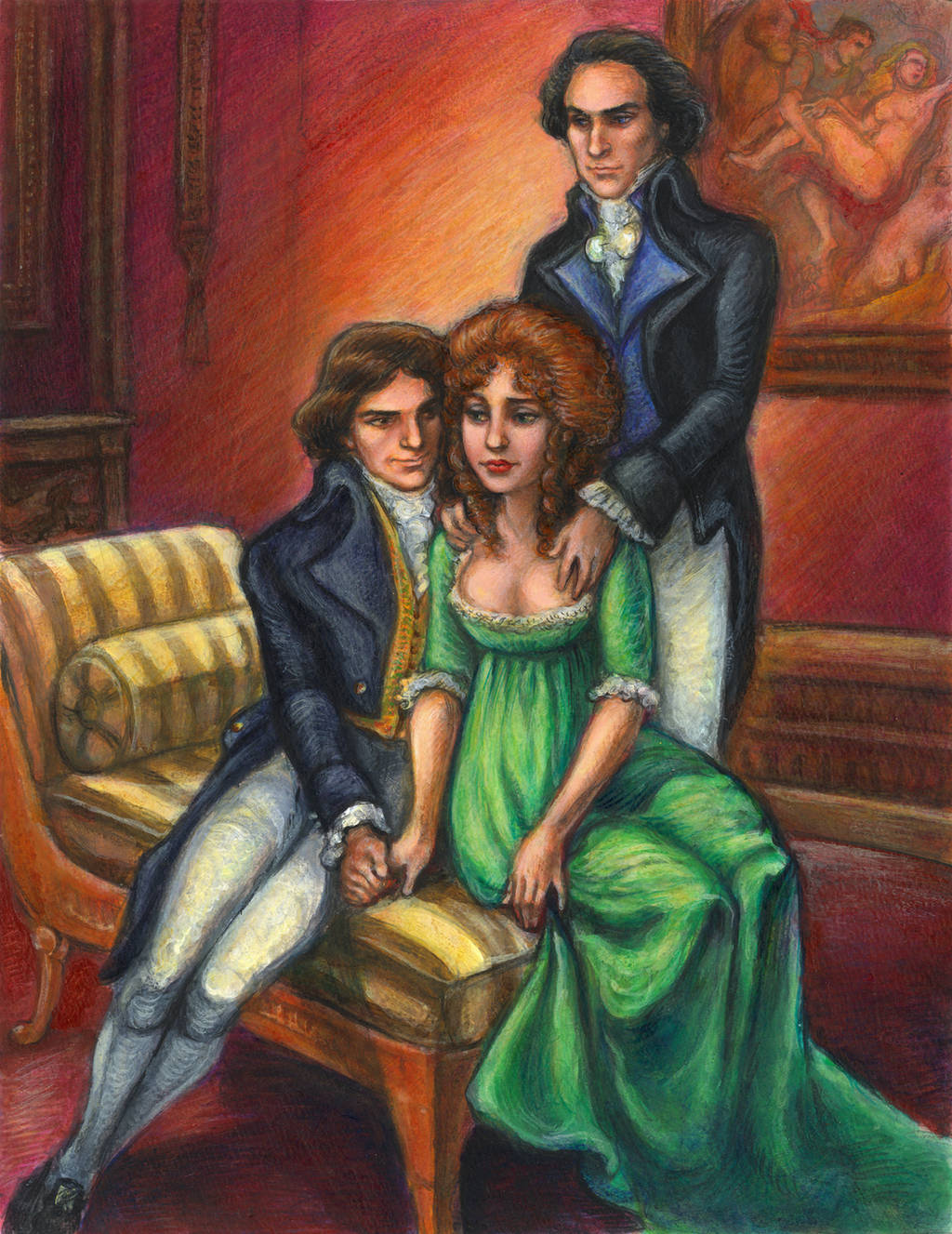 Watch
My fourth historical piece for romance author
Jackie Barbosa
. This depicts the Colin, Atticus and Grace from her super-sexy menage short,
Grace Under Fire
, which has a mid 1790s setting.

Nice work! Hey, I do an ongoing short fiction project, and your artwork inspired
a vignette
for the project.
Reply

I saw! Thanks-- I shared it with the author who originally commissioned the piece. That was pretty cool!

Reply

This looks more like something from the novel 'Fanny Hill'* than any respectable period drama begad! (given the rake-hell habits of the Cyprians and Corinthians of the Age it's almost certainly QUITE period-accurate; must be either those tight britches sending the message "Use to or lose it!" into the lizard-brain or all those low-cut dresses - it makes you wonder how anyone got anything else done … ).
(*written by John Cleland in 1748, which should tell you something about the unchanging nature of scurrilous humour across the ages).
Please allow me to compliment you upon your fine artistic style and the charm of your portraiture, as well as bestow a rectitudinous glower upon the subject-matter! (because where's the fun in rake-hell behaviour if it offends no-one?).

Reply

Thank you! Yes, I do wonder. It was certainly a very sexy age for fashion.
Go and glower away!

Reply

Challenge accepted!

Certainly the fashions of the Regency Era beat the blue devils out of Victorian fashion insofar as one may determine! (possibly literally - one has to suspect that a major part of the Victorian reputation for prudishness was founded on the realisation that the only way to shock parents whose rake-hell reputations remain the stuff of legend was to grow up as square as humanly possible).

Reply

I think that was, in fact, it. The Victorians were to the Georgians and the Regency as Alex P. Keaton was to his hippie parents.
Reply

You know I often wonder what people living before our Present Day thought and felt when they looked back on mementos, ruins and other remains lingering on from eras earlier even than their own - did Victorian mamas ever pull out their old Empire dresses for the edification of their Austen-obsessed daughters? Did Victorian gentlemen look at portraits of papa and wonder how on Earth he found room to ... BREATHE in those breeches?
Just how far back into the mists of History must we look before we come to that happy time before the Youth of Today could look back on the fashions of Yesterday without suffering fits of the giggles in the face of sartorial follies that used to sit pretty at the pinnacle of style?
Never mind Recorded History, one might not be able to catch any glimpse of such an epoch even in Prehistory!

Reply

This has been a Thing for a long time. Here's a post about the "anti-Regency" sentiment of the mid Victorian era--
historyhoydens.blogspot.com/20…
-- basically, Regency fashions were considered so embarrassing and ugly that most people (including Thackeray) preferred to pretend they never happened. (So I doubt Victorian mamas would have pulled their old gowns out, for fear of being thoroughly ridiculed.)
Here's an awesome cartoon from Punch too, illustrating just that:
upload.wikimedia.org/wikipedia…
I doubt this was even a new thing in 1840, though.
Reply

Is it petty of me to cackle with laughter as I wonder just how the daughters and granddaughters of these two Victorian Belles will pick holes in their present sartorial splendour? (with all the youthful enthusiasm and certainty of those who have yet to realise that someday it will be THEIR turn to shiver in the harsh light of hindsight); if it is then I'm not quite so sorry as I probably should be to say "STILL FUNNY!" and continue sniggering in fine juvenile style.

Reply

They so would. I am reminded of how in the 1920s people sniggered over Victorian dress, and in the 1940s people sniggered over 1920s dress and music (there were some cheap jokes along those lines in the Disney short "All the Cats Join in"--
www.youtube.com/watch?v=hMVHlr…
).
1970s clothes are still horrible, though. *cringes*
Reply
(1 Reply)

Reply