BEFORE YOU GET STARTED:
REGISTER AND CONFIRM YOUR TCG ACCOUNT:

Make sure you have a TCG account registered and CONFIRMED HERE!
Once again, you need to register for an account on the site then use the form at the bottom here to confirm the Stygian account is your DA account to prevent fake accounts/ etc!

Make sure all your MYO + UPDATED STYGIAN are approved and added to the masterlist HERE

SETTING ELEMENT + ATTACK POWER IN ONE EASY SWOOP:
[ STEP 1: LOG IN TO THE STYGIAN SITE]

This should be pretty straight forward, make sure you have registered, and then logged in to the site. Then, on the main menu, go to your own PROFILE link in the navigation
(found under your username dropdown)
[ STEP 2: LOCATE YOUR STYGIAN ]

Then just scroll down, and locate your Stygian.
Click on the one who's stats you want to set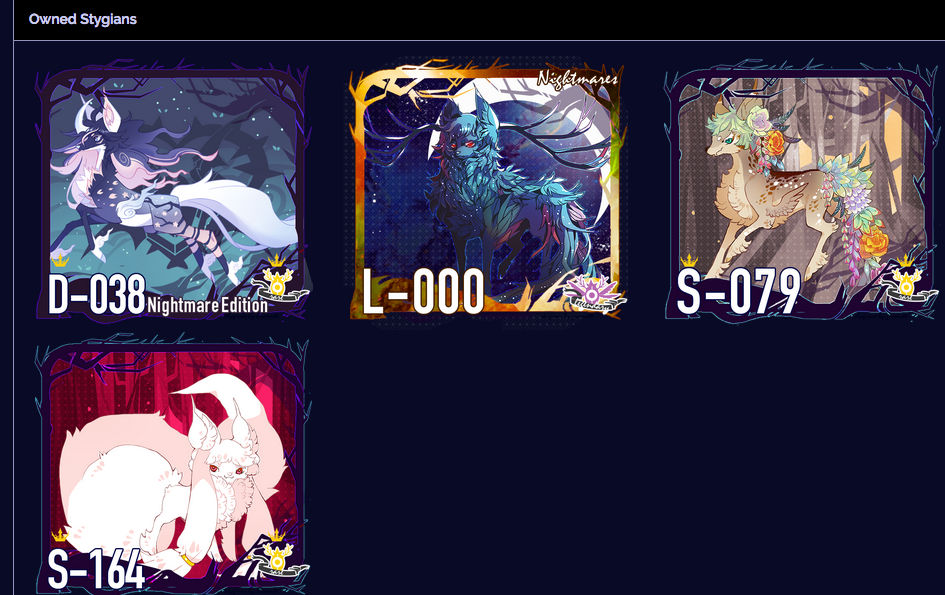 [ STEP 3: SET ELEMENT AND ATTACK ]

When you have
clicked on a Stygian image you own from your profile
, scroll to the bottom of that page. You'll see some fancy stats at the top, then at the bottom something that should look like this:
Select
an element from the dropdown and hit confirm
. You are set!
A reminder you can change your Stygian's element once every week. This is helpful for when you update your masterslist info, about your Stygian and your Stygian becomes eligible for new elements!
If this is your first Stygian you've ever set an element too, it will automatically assign your attack too!
If you have already set element but not attack, a dropdown menu should show up for you to set your Stygian's attack. Go ahead and click on it to set their attack!
[ STEP 4: RESETTING AN ATTACK AN ATTACK ]


To reset an attack stat, you can use the Stat Reroll Dice item on site!