Today, March 14, 2018,
The Chamber
,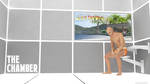 my latest premium TG comic, is available for sale.

I've been working on
The Chamber
for the last year and half between other projects and during downtime.
The story is pretty simple: A guy gets thrown into a weird prison and slowly turned into a woman.
Think of
The Chamber
as a "cousin" story to my other TG comics
WTF?!
. Both deal with isolation and a slow transformation.
The Chamber takes place "now", rather than some far future... well, not quite now, but close, just a few moments in the future.
The Chamber
has the most adult content (sex) that I've put in a story so far.
I can't directly link to the site from DeviantArt due to the TOS restrictions, and that's cool. It's their site, not mine. But honestly, if you know how to use google, you can find my work.
Any questions? I'll answer what I can, but I won't spoil the story.
Price: $13.95
Page count: 900+

Don't forget - if you purchase the comic during the first week of release, it will come out in chapters, not all at once. If you'd rather just read the entire thing in one sitting, just wait a week for the full release.