Finally had the time to finish up this DnD commission of Kali the Necromancer Wizard. In addition to her dark magic, she uses a shovel as a weapon because... well she has to get the bodies from somewhere right haha?!
The heterochromia comes from when she stole a spell book from another wizard and was cursed and driven insane. This one took me a while to finish because we were in the process of packing and moving cross country. So much fun to work on!

Sketch: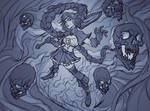 I stream all of my art live, you should come hang out sometime!


TWITCH:
www.twitch.tv/stumpyfongo
Image details
Image size
2960x2000px 1013.44 KB