The final result of my collaboration with the amazing
Dzikawa!
We each designed
DeviantArt
Collective themed characters based on their mascot Fella and the DA logo! We each swapped sketches for each other to paint and have been working on them on stream periodically throughout this past month. It was such an honor to be able to work with Dzikawa on this project! Not only is her art out of this world amazing but she is one of the most kind and humble people I know. Truly a privilege to be able to work with her on this! I hope one day we can collaborate again in the future!
✨
🤩

To read more about the DeviantArt collective and how you might join click here:
bit.ly/DA_Collective

This was the sketch that I sent to Dzikawa:



And check out Dzikawa's amazing finished painting of our collab here: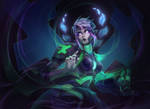 Make sure to give her a follow on twitch where she streams her art live:
www.twitch.tv/dzikawa

I also stream most of my art live on twitch. Make sure to follow so you can be notified for when I go live and make sure to come hang out some time!
www.twitch.tv/stumpyfongo
Image details
Image size
1125x1500px 393.01 KB