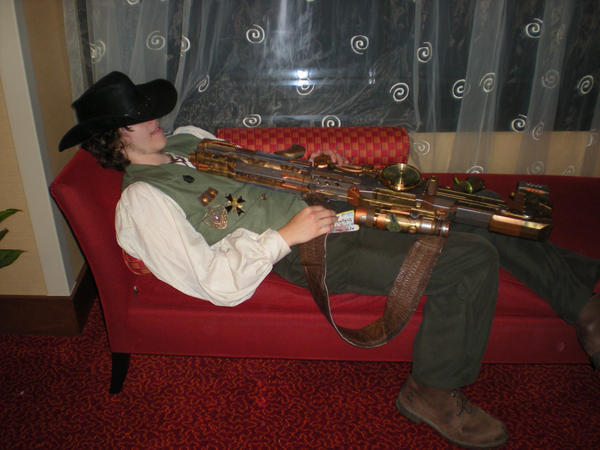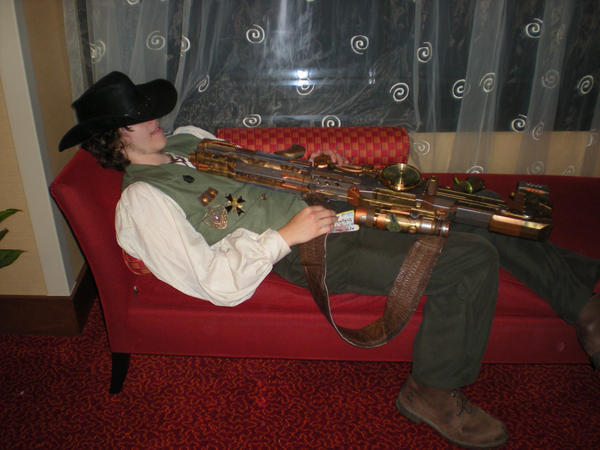 Watch
This is our friend Jake's (I keep forgetting his username. I'm a bad person.) steampunk rouge assassin costume put together by both S~ and M~.
All clothes were purchased secondhand.
Both the vest and pants were altered by S~, since he's such a twig. XD
The badges were supplied and the puffy shirt was tea-dyed by M~.
M~ was also responsible for the creation of Gungnir (that would be the gun he's holding.). It's made from a Nerf longshot, painted first with gold spray-paint, then detailed by hand with acrylic paints. Then bits salvaged from an old barometer and scraps of leather were added.
The hat was supplied by the lovely

Modeled by Jake
Photographed by either S~ or M~. I forget.

Reply

That gun is so damn impressive.
Reply

D'aww, thanks~! I'm surprised how much everyone loved it...I only spent 10 hours total working on it, and just finished it the friggin' night before the con. XD

And if you're interested, watch for better pictures! I'm just about done making repairs, and then I'm going to take nice pictures of it. :3


--M~
Reply

Sweet. Its really quite awesome. Me and another friend of your wife's were talking about prop design and how you could kick ass in it.
Reply

Friend of my wife...? I'm 17. I'm not married...

But thanks for the compliment~


--M~
Reply

Reply

._.

Am I missing something here...?
Reply