This week my Conan O'Brien/Star Wars crossover art was featured on "Conan"! Below is the piece in question.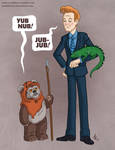 The fun began early in the week when they used my art as a promo for the upcoming Star Wars special.
A capture of that image can be seen here, on my Instagram.
Then, when the actual "Conan Star Wars" special aired on Thursday night, my art was used as a bumper between commercial breaks.
That can be seen in a video clip I took off my TV and posted on my tumblr.
This actually marks the second time my fan art made it to Conan (my Minty the Candy Cane piece made it a few Christmases ago). As a Conan fan of many, many years, I've been geeking out pretty big this week.

-Andrew