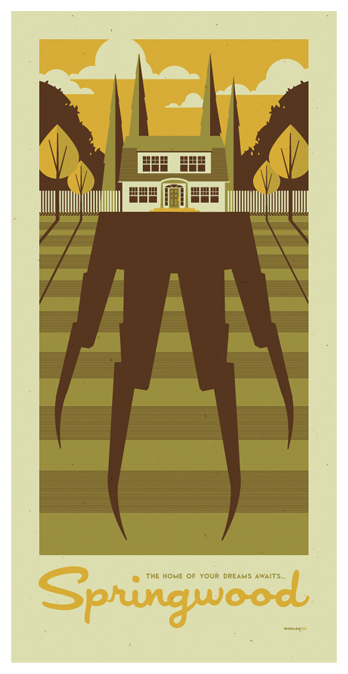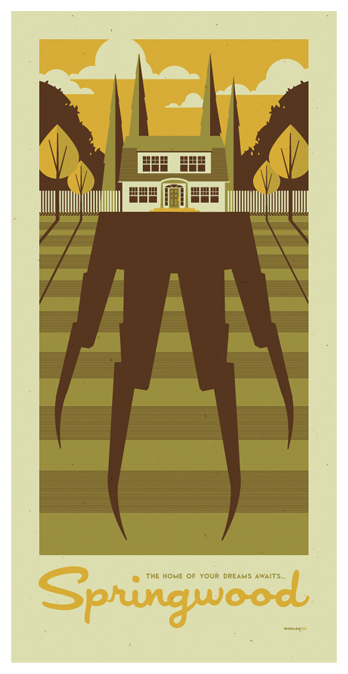 Watch
one month from today,
dave perillo
and i will be unveiling our 2-man show, "around the world in an 80's daze" at
gallery 1988 : venice
.
the show will feature 21 screenprinted retro-style travel posters that celebrate 80's pop culture. "springwood" is the first of my pieces revealed.
dave and i will be in attendance and look forward to meeting some of you folks.
> around the world in an 80's dazeshow opening:
friday, september 28, 2012
location:
gallery 1988, 214 pier avenue, santa monica, CA 90405
opening reception:
7–10PM
> print infosize:
12″ x 24″
medium:
3-color screenprint on french construction cement green 100# cover
edition:
limited, 50

Reply

LOVE IT!!!! favorite character for the genre EVARRRR!!!!
Reply

Reply

this is amazing! this movie made a big part of my life and love of horror movies. THANK YOU for this!
Reply

very cool! reminds me of Charley Harper
Reply

AHHHHHHHHHHHHHHHHHHH so Good!!!!!
Reply

Sick dude. Also, props to not having it say Elm Street, excellent touch.
Reply

Reply