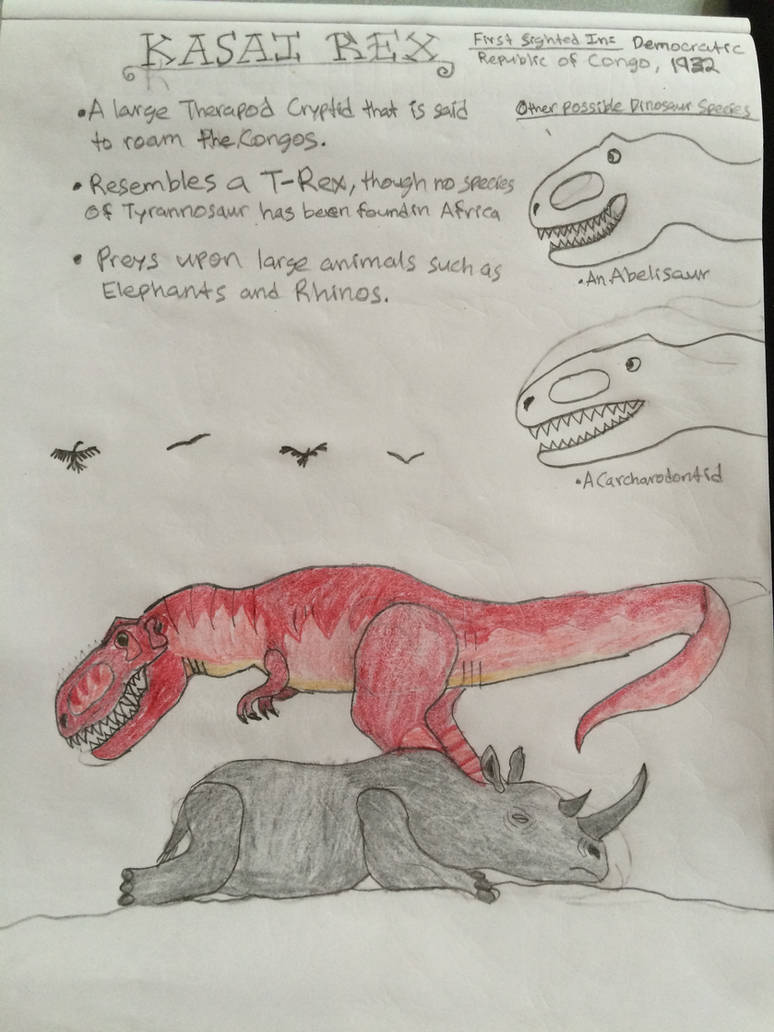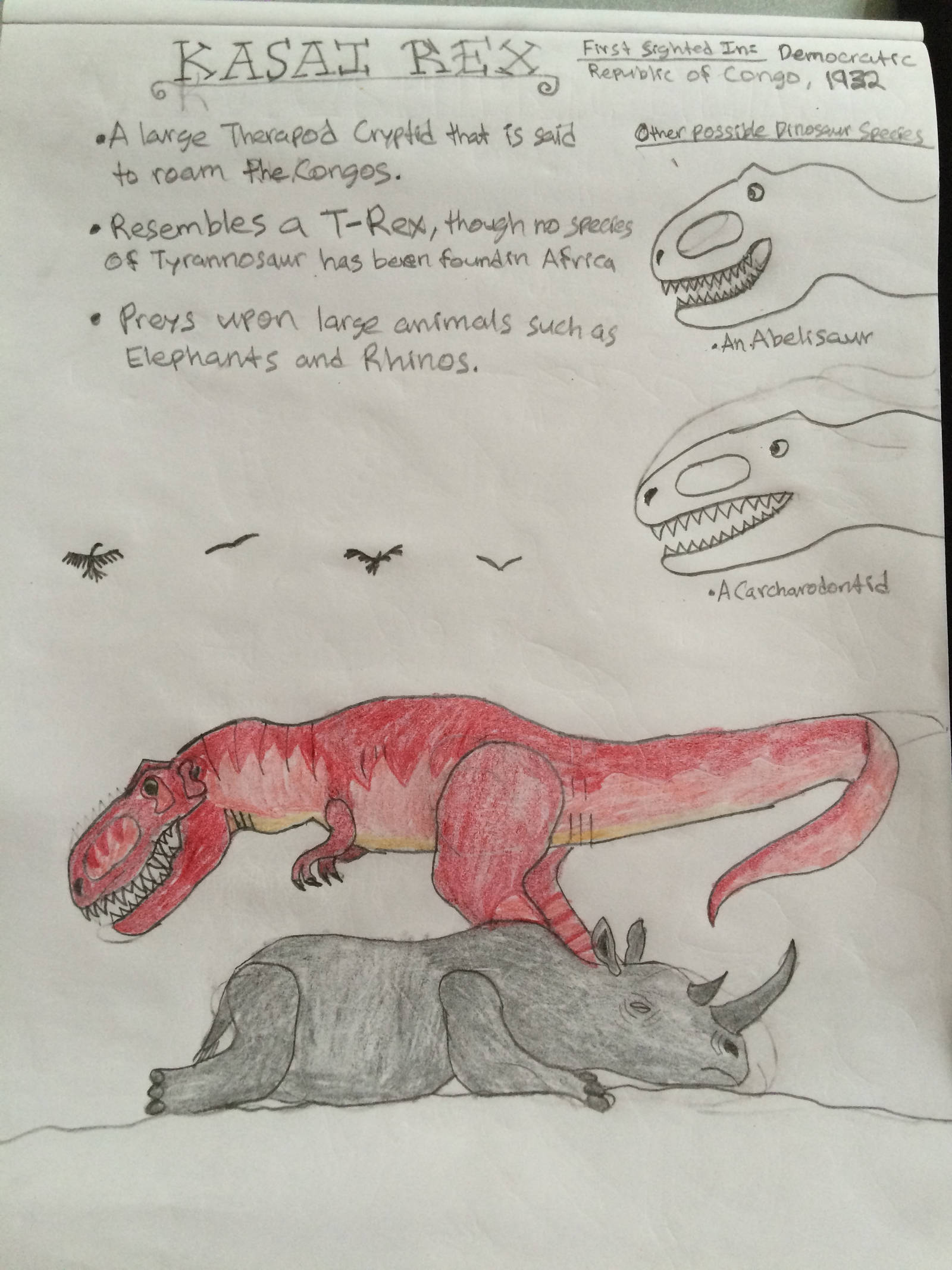 Watch
*I decided to redo my Kasai Rex sketch. Now I think it looks much better.


The
Kasai Rex
is a gigantic therapod cryptid
from the Democratic Republic of the Congo. It is said to be a surviving theropod dinosaur, such as
Tyrannosaurus rex
, though it has also been depicted as a huge monitor lizard as well as a terrestrial crocodile.

In 1932, Swedish plantation owner John Johnson (sometimes spelled Johanson) was traveling with a servant in the Kasai Valley. They encountered a rhinoceros and tried to avoid detection when a large creature rushed from the undergrowth and attacked the rhino. Johnson fainted and the servant ran away. When Johnson recovered, he saw the creature eating the rhino.
"It was reddish in color, with blackish-colored stripes," he said later. "It had a long snout and numerous teeth." He decided that the creature, 13 m (43 ft) long, was aTyrannosaurus, and also said "The legs were thick; it reminded me of a lion, built for speed".
However, no tyrannosaurs were known to live in Africa, but one theropod similar to the size report and lived in Africa is none other than the Carcharodontosaurus saharicus. Carcharodontosaurus was the apex predator of Early Cretaceous Africa, and was also known to compete over food with Spinosaurus aegyptiacus.

Note: I decided to go with a T-Rex design for the Kasai Rex. I based its colors of the the T-Rex in the Jurassic Park novel.

Your rendition of Kasai Rex is awesome, but I'm afraid it was completely fake: the two photos of this cryptid were in fact hoaxes, as they were both faked by chopping out magazine pictures (one a monitor lizard, the other a photo from the film "The Valley of Gwangi") and sticking them onto African scenes. I would like this guy to be as real as much as you do, but he's a confirmed fake, sadly.
Reply

Thanks so much for the comment and insight.

I am aware of the two photographs confirmed being hoaxes. But that's not to say that the Kasai Rex itself could not still be real.
Now I realize that an aspect of Cryptozoology and Paranormal studies in general, is always making sure to figure out which ones are frauds. But something to consider in the case of the Kasai Rex is that there are still regions in central Africa, specifically the Likouala Swamp, a region which covers an area the size of Florida, that still remain 80% unexplored.
Another important thing to note is that despite the Kasai Rex photos being fake, we still have reports of other dinosaur-like creatures such as Mokele-Mbembe, Emela-Ntouka, and the Mbielu-Mbielu-Mbielu that continue to pour out from these locations. So it's possible that there could indeed be a real Kasai Rex also among these alleged real dinosaurs.
So until we have adequately searched throughout this land of the unknown, we may never know if the Kasai Rex or any other alleged living dinosaur still roam the earth today.
Reply

I guess. If we did discover a new theropod cryptid like Kasai Rex, I would prefer it if they named it something new, just because Kasai Rex is a proven fake so it would be better to name the theropod something new
Reply

Reply

maybe the dinosaur is a D-rex ((the smaller ancestor of the t rex))
Reply

Reply

Well if it real, K.Rex would most likely be a Characharodontasaur rather than a Tyrannosaur as Cdontasaurs (That is a long and hard ass name to spell) were common in parts of Africa......sh@# you already said that I just read what you typed. Also don't eat the rhinos, those things are already under populated enough and they don't need to be eaten by something that should be extinct, eat some of the poachers instead, there's plenty of them
Reply

Reply

Reply

Yes, that no Tyrannosaurs was found in Africa, yet the legend came from africa
Reply

Well the reason no Tyrannosaurs lived in Africa (or South America for that matter) was due to the arrangement of the continents at the time. Tyrannosaurs only roamed North America and Asia, while Caracharodontids, Abelisaurs and Spinosaurs only roamed South America and Africa.
Reply