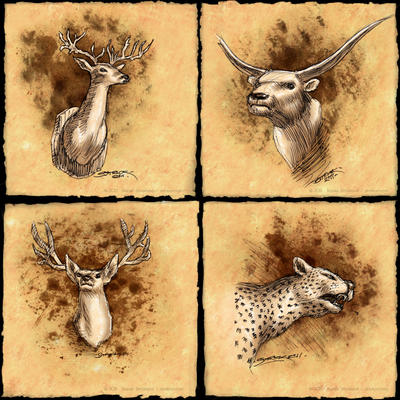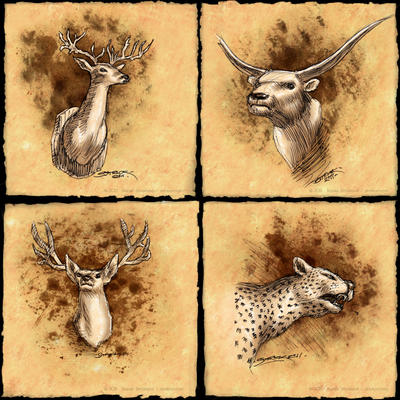 Drawn from life that was skillfully killed, gutted, skinned, stuffed, and posed to reenact what it looked like when it was still living.

From the exhibitions at the Buckhorn Museum & Saloon, San Antonio, TX. One of my favorite places in all of Texas.

ooh nice i like the sepia tone you have there what kind of paper did you use?
Reply

Thanks! It's actually a combination of scanning cheap typing paper and doing stuff with the levels in PS, deckled edges from old watercolor paper, and toothbrush spatterings with sepia ink.
Reply

I'VE BEEN THERE! THAT PLACE IS EEFING AMAZING! I already told them I was determined to work there if I go to UTSA! My favorite was the Texas Ranger Museum. These are sensational!
Reply

That's so cool to hear! Yeah, I love that place. Especially the weirder displays like the shrunken heads and two-headed lambs and stuff. If you could work there, go for it!

I've been to the Texas Ranger Museum too. I remember being really impressed by their old gun collection and a display of barbed wires. When I'm back in that direction, I'll try to do some sketches there. : )
Reply

I love it

You have a great style !
Reply

Reply

Reply