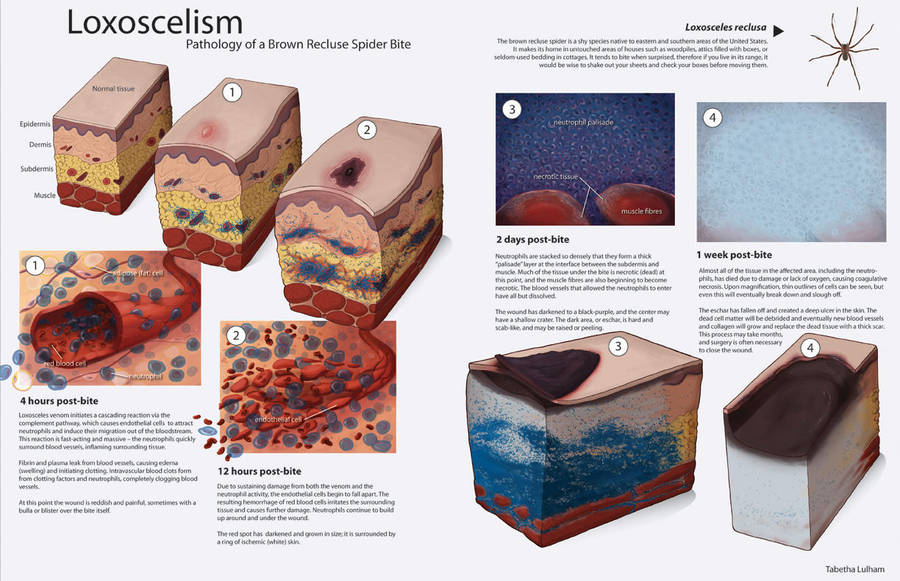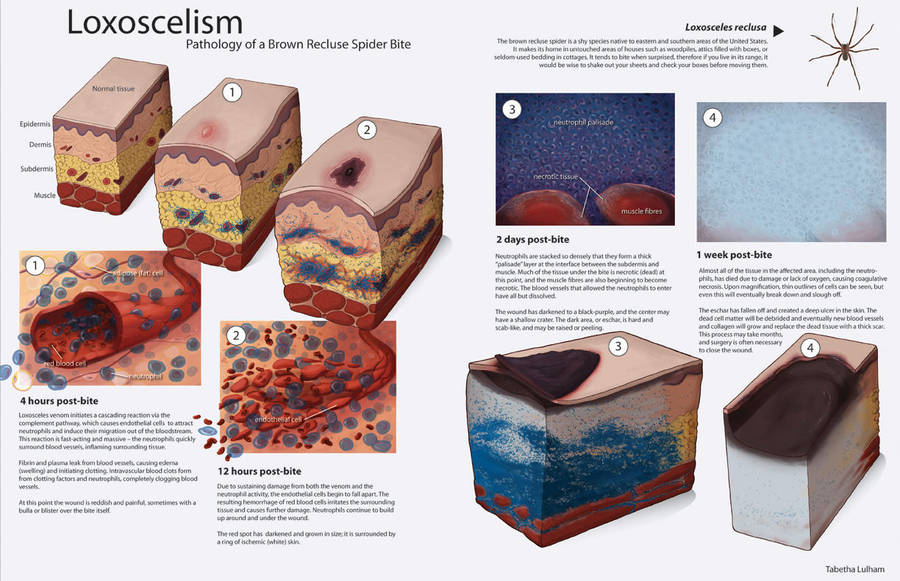 Watch
This is the final piece that I submitted in February for my pathology assignment. It's not for the weak of stomach! You've been warned! (Although my illustration is much more forgiving than actual photos of the pathology).

I'd be happy to answer questions if you have them... if you download the piece, you can see a version large enough to read the text.

Wow this is really informative and educational. Thank you very much for posting this!
Reply

Great Image and One question. Loxosceles are minor dangerous in comparison with the australian Atrax robustus and the Phoneutria nitriventer?
Reply

Not sure but I would guess that - Australia has all the scariest animals.
Reply

This is fascinating! I've lived among the black widows my entire life (have a little family in my garage, in fact), but getting chased by a brown recluse was one of the most frightening experiences! Luckily I've not been bit by either, and I'd like to keep it that way. Looking at the damage illustrated is one thing, experiencing it is quite another! Excellent work.
Reply

i was bitten in my sleep when i was in jr high its been 7 years now i still have the scar from the thing. but all that happen to me was it was really itchy it swelled but not like a bollon and i had to white stringy stuff when we pulled them out it looked like it had pearls on it.
Reply

D: I'm sorry to hear that you went through this! Even without the tissue death it must have been very painful.
Reply

Oooo man this brings back memories, my friend got bit twice.
In the most inconvenient of spots too. They had to surgically clean the first one too.
Reply

D: That's awful! I wouldn't wish the wound on anyone.
Reply

Reply

Tasty, tasty dying flesh... D:
Reply

Brown recluses are sympatric with black widows in the area where I grew up, and yet everyone was terrified of the widows and hadn't even heard of the recluses. Given the choice, if I had to, I'd rather be bitten by a widow than a recluse. Sure, horrific, system-wide pain, but at least the flesh isn't rotting in place, leaving a growing pit of yuck!
Reply

True enough, but I believe you are more likely to die from a widow bite than a recluse. The only known cases of death from brown recluse bites are in kids under 14. Plus you only get the necrotic arachnidism about 15% of the time... so I think I'd choose the recluse over the widow. >_>
I'm arachnophobic though, so I'd really prefer to just not meet either.

Reply

Oohh... I didn't know that statistic; I was assuming the fleshrot happened to all bite victims. I suppose it's akin to snakebite, then: venomous snakes (the adults at least), are able to "decide" whether or not to inject venom when biting. More often than you might suppose, self-defense strikes from venomous snakes wind up being "dry bites," that is, no venom is injected.
But, as you say: best to avoid it all around!

Reply

Hmm, I didn't know that about snakes!

I think the mechanism with spiders is an efficiency thing... that they inject vemon (toxin? poison?) automatically but sometimes it doesn't reach the target, due to having short mandibles or just not hitting a blood vessel. The necrotic business with recluses is due to the venom irritating endothelial cells, which then call over neutrophils, and the neutrophils kill everything in sight. So if you don't hit an endothelial cell, you probably won't get a reaction.

I've heard that yellow sac spiders (house spiders) have venom as powerful as recluses, but that their bites are so inefficient that they hardly ever produce that kind of reaction... no idea if that's true but it's interesting anyway!
Reply

So, if I must be bitten by a recluse, I should aim to be bitten in a place with thick epidermis, like the heel? Makes sense to me.
I know that all spiders produce venom (though there is a vegetarian spider, discovered by an undergrad at my school, check it out:
[link]
). Maybe it's a combination of weak/small fangs and small volumes of toxin. Oh, by the way, spider's don't have mandibles (chewing/crushing adapted), they have chelicerae (pointy). Mouthparts are the principal anatomical structure by which arthropods are subdivided into major groups. Though taxonomic revision might change that...
Venom is injected through a specialized apparatus (the fangs of snakes and spiders, the stingers of scorpions and wasps, the cnidocytes of jellyfish and so on), with poisons are introduced into a system topically (poison ivy) or through ingestion (mushrooms), etc. So if a snake bites you, you've been envenomated. If you're taken by the urge to eat a snake's venom glands, you'll be poisoned. As for the substance, I always say "toxin" if I'm not sure how it's delivered. But then arsenic is a toxin, too. I think.
Reply

Ah, thanks!
One of my classmates is doing her Master's Research Project on arthropods (she's making an interactive module suitable for a museum) and yesterday she was showing some of her progress to class, and referred to the spider and tick as chelicerates. Now it all makes sense!! lol
Also, that vegetarian spider is really cool

Reply
(1 Reply)