I didn't get to flesh out the spookkat species as much as I wanted to this year, so I'm giving everyone their own chance to make their own!
I am now extending the contest because I didn't get many entries. The contest will end on the 10th of December. Hope this is enough time for everyone now!

Please read this whole journal carefully before making an entry. If you do not follow the rules I will not accept your entry.
ROUGH SPOOKKAT GUIDE
- Includes a description of the main features of a spookkat and why they have them!
Please read everything carefully before making one. If you have any questions please feel free to ask! I will add a FAQ as I get questions about designing a spookkat.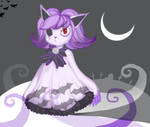 <da:thumb id="491929583"/>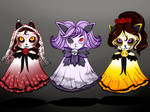 EXAMPLES OF SPOOKKATS
- Sorry there's not more examples at this time! As long as you stick to the main guidelines there should be no problem.
There will be five winners (there may be more if I get more entries than expected) who will get to keep their spookkats for free.
Any designs that do not win may be kept for $8 USD/800 points.
I'll be taking entries until December 10th at 11:59PM.
ABOUT ENTRIES:
♥ Your skill level as an artist does not matter, what I will be judging is your design.
♥ You do not have to do both a front and back, but it is preferred! If you do not include a backside reference, make sure to specify what's there (blank/bow, tail).
♥ A brief description of their previous life and/or how they died will help me understand your design better but is not required.
♥ NO feet and NO back bows with tails, please. Those traits are too rare. Spookkats may have as many accessories as you want.
OTHER RULES:
♥
In the event that you no longer want your spookkat, you may trade or give away the design. You may not sell it though.
♥ You may make as many entries as you like, but only one of the entries may be a winner.
♥ You do not have to advertise my contest but it would be appreciated.
To send me your entry, please ping me by putting : devberryanna : without spaces.
If you do not ping me I will not see your entry. Please do not note me your entry.
ENTRIES SO FAR: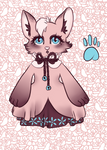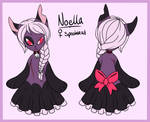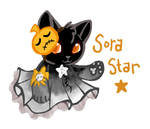 <da:thumb id="492331312"/>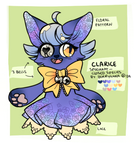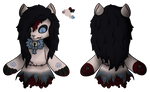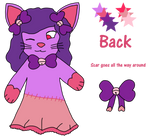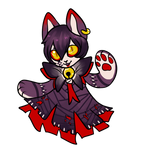 <da:thumb id="499029752"/>
Any questions? Ask away in the comments only! I'll be adding a FAQ as I go along.