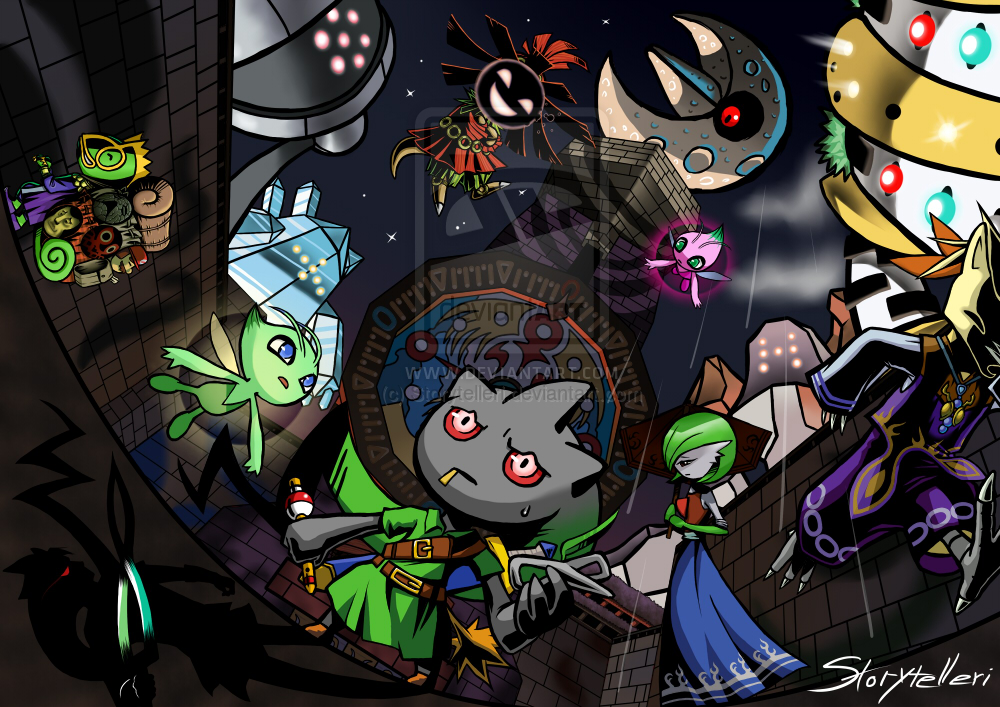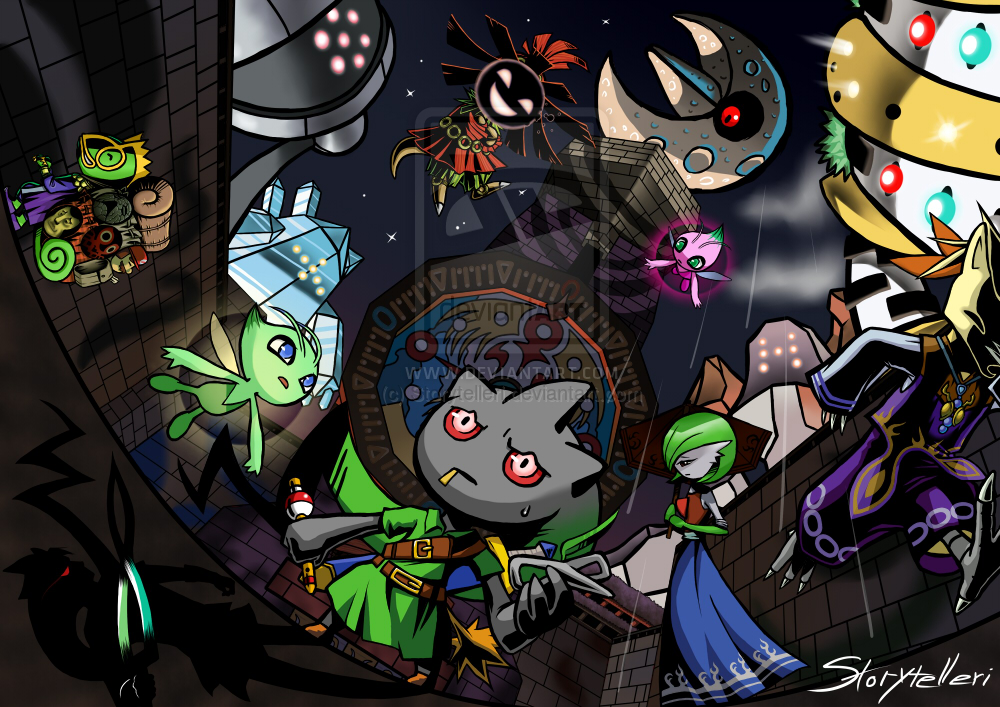 Watch
Banette as Link
Pokeflute as Ocarina
Nuzleaf-mask as Deku-mask
(Normal colored) Celebi as Tatl
(Shiny) Celebi) as Tael
Missingno. as Majora's Mask
Lunatone as The Moon
Keckleon as Happy Mask Saleman
Regigigas, Regirock, Regice and Registeel as the giants
Gardevoir as Anju
Ninetales-mask as Keaton-mask
…And now, can you deduce/guess: What Pokemons are behind Ninetales-mask and Missingno.'s Mask?

TWELVE Pokemon characters in one picture

(if the shadow on the ground and all masks are not counted)… And I'm so happy I got background into this round perspective nicely… PHEW. Drawing this took much more time than I expected.

But it was worth iiiiit! Kinda new thing to me to draw such dark shadow on characters... But nice to try, 'cause 1) I like try new drawing styles and 2) I wanted to draw similiarly with original art of Majora's Mask dark-ish-style. Plus this game is so unique and interesting.
About watermark: I know it doesn't look nice. I didn't want it, but instead I ended up to need it. Before I knew what Reddit is, my heart jumped when I heard that my work was seen outside of the DeviantArt, in Reddit-site. You never know for sure if your art will be stolen, so you end up putting watermark just in case.
Another purpose of watermark is that when your art wanders outside original website, you may want to make it clear where the art was originally from, so people could find and see more art from that artist if interested.
I put good long hours when planning and working on this pic, and I really don't feel like risking all my effort.
I think this is obvious for most of people in DA, so sorry for ranting. I'm not member of Reddit, so I cannot tell those people how this is, but as there's link to my work from Reddit, maybe they reads this before complaining more of the watermark.
...It's funny to see how my work has more comments in that site than here. It was interesting to read them.