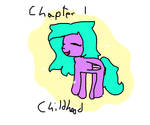 CHAPTER 1: Childhood
"Lalalalalala la!" Pinkie sang, hoping around. "Ow!" She cried. "Oh are you okay? I'm really very super up the roller-coaster ride sorry!" Pinkie apologised. "O-oh...It's okay-" But then she was interruppted. "Cross my heart and hope to fly, put a cupcake in my eye! I pinkie promise to never bump into you again!" Pinkie yet said. "Umm...Anyways my name is..... My name is Celastial Crystal! What is yours?" She replied. Pinkie then gasped. "Your name is so...so SAME TO THE PRINCESS' ONE!" Pinkie screamed. "Oh....Let me tell you.......... You can share it too your friends though! Twilight already knows." She then covered her mouth. "Twilight?-" Before Pinkie finished she screamed, "O-OH! WHOS TWILIGHT?? I MEAN NO ONE!" She hesitated. "Okay let me tell you..." She then started. "FIND THEM!" The ponies shouted. "M-mom..... I'm scared! Will we make it out alive?" She said in a shakey voice. "Of course! Just stay close to me....We can go to a town called ponyvile! It will be safe there! They wont find us!" Her mom cried. "Okay lets go!" Her dad shouted. They then ran and ran. "THERE THEY ARE! GET THEM!" They shouted. They then countiued to run faster but then they started shooting arrows. "FIRE!" They shouted. Celastial's Mom then used her horn and made a shield around them but, not for long. Soon the shield dissappeared. The ponies then started shooting again. "OOF!" Celastial cried. She tripped over a rock and fell. One arrow then went directly for her. She layed there, looked at it and closed her eyes. Suddenly, she was safe, she was blocked by something, it wasn't a shield but....It was her parents. "Mom! Dad!" She cried. She sat down and looked at them. "Go Kenessa, GO!" Her mom cried. Celastial nodded and ran. She then made it to ponyvile. Looking all broozed up. Then,Celastia came, "Are you okay young one?" She asked. "I-I'm okay...." She replied. "Come, I shall take care of you. I would call you... Celastisal!" Princess Celastia said. Celastial smiled and was taken care. She had a bad life but when she saw Celastia She fixed it for her. "Woah!" Pinkie gasped. "Oh wow how did you stay up not sleeping?" She asked. Pinkie shrugged.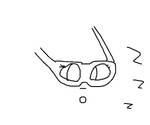 "So thats how you lied huh?" She said. Pinkie giggled and went away.