Its Been A Long Time Since I posted A Journal on Here But I Figure its about Time I Do So....
So So Many of you might ask me What is Crystal Valley Well I Figure I Tell you A Short Summarization of the Project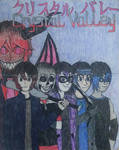 and this Image on the Left is by the amazing

and its the first of Many Concept Posters & Arts That Will Be Coming
So onto the Summarization
Crystal Valley Tells the Tale of a Investigative Journalist known as Zack Godstone who goes to the Town That was said to be abandoned after an ancient being known As The Shadow Beast Layed Total Destruction and Chaos to the Town that was once a happy cheerful place Until A 18 year old goes under the Shadow Beast's Influence and Brought A Massecre to the Town. Now Many Years Later Zack Must Figure out why this town is Haunted and Not Only Survive the Trials of The Shadow Beast & The Reaper itself but will have some big allies assist him along the way to survive the Horrors of Crystal Valley and Escape with Evidence or Die Trying.
Now to Answer a Few Questions
1. NO Collin is No Longer a Proxy "Certain Reasons That'll make this way to Long to Explain"
2. How is Slenderman or even his Proxies "Mine Included Such as Both Bloodstone & Nightlock" involved with the world of Crystal Valley? Simple Answer Really: Nightlock is a Master of Technology and is Useful to Slenderman And Major Reason Slender didnt hunt Collin Down was Cause of Collin's Sanity Breaking from the influence of shadow essence and Nightlock Crafted Collin's Main Weapon of Choice/Tool That Brought The Utter Downfall to Crystal Valley: The Switchblade Scythe
3. "Probably Related to Question 2" Will Other Pasta Monsters eventually Cross Paths with Collin & The Shadow Beast? Yes.... but More is to be told in the future
4. Travis Farrior's Back? is Darkeyes also Involved in this? First The Travis Farrior Scenario? Yes Travis is Involved However unlike the Old Version He and Shadylon are one being and work with Collin's Other Cousin who is Skilled with Reaper abilites Like Collin to try and get survivors through The Horrors of Crystal Valley. Now For Darkeyes, Yes She is Still the GF of Collin However The Origin of Collin & his Rise to becoming the Servant to the Shadow Beast alters her status a bit differently and how she became what she is: During The Massecre The Shadow Beast Managed to Get A Hold of Her and Knock Her Unconscious and had her teleported to his lair for him to convert her to a Servant Just Like Collin...
5. How Did Crystal Valley Came to Be??
Well, Since The Major Changes within Proxy OCs and Slenderverse I figured it was best to not have Collin Involved in that Mess anymore and as for how the title came to be well The Name Happened to be in a game i was playing when I was being random with it "A Game Called GameDev Tycoon" Thats when The Spark Ignited and Caused me to Make Collin Farrior his own unique character and Thus Crystal Valley was born
6. When are we expecting the Prolouge or any Progress of the Story?
Whenever It Gets Finished? I Plan to Release the Story In Parts and I will have Friends of my Choosing to aid me in bringing it to life
Well That is Pretty Much the Big Project I been working on and I will unleash the Prolouge whenever it gets finished
Til Then I'll Catch You in the Next Journal