I'm a South African currently living in London. I don't like the cold much but I do my best working hard at the hospital here and basically taught myself how to draw digitally. :3

































Anime character others compare me to:


CLICK THESE MYSTERY HEARTS TO SEE MY OTHER PROFILES!




Transformers Prime Fic Status: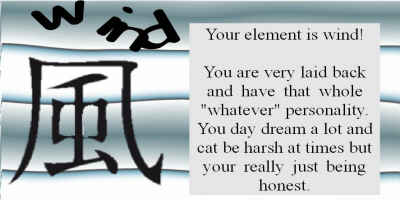 What Element Fits You Best?
Hosted By theOtaku.com:
Anime
Favourite Visual Artist
*shrug* ...Leonardo da Vinci. I admired his curiosity in all fields.
Favourite Movies
*grins* AVP of course ... >D Transformers kicked ass!
Favourite Bands / Musical Artists
I love Classic Rock music. AC/DC, Guns and Roses, Deff Leppard, Nickleback, Linkinpark, Creed, Evanessence, Within Temptation, Creedence Clearwater...aw too many to list, As long as it has awesome electric guitar!
Favourite Writers
Dawley, Fire Redhead, Megz, others on Fanfiction.net. I also love Dean Koontz and James Patterson.
Favourite Games
Half-Life, AVP 2 and Unreal 1 and 2: the awakening
Favourite Gaming Platform
Computer
Tools of the Trade
eraser, pensil and paper...and I'm gone for hours! ^^ Now add a tablette into the equation! XD