Check in here with your faction and links to all the sprites you will be using in the comic. If you need to host sprite sheets you can do so on Imgur, or even in your sta.sh.
Please do not upload publicly available sprite sheets to your Deviantart gallery, unless you yourself ripped them. Do your part to keep Deviantart free of clutter.
Now, there's no obligation, but I would encourage you guys to join the Sprite Wars Deviantart Group, and the Sprite Wars Forum. The links are found below.

www.spritewars.com
Thank you for taking part in the Sprite Wars on Deviantart.
FACTIONS:
1.

The Space Rebels
Sprites:
mega.nz/#!FlAAzCAB!rMwO00ElK5s…
(.zipped the file for ease of access. )
edit:
There were also a few sprites I forgot to put in the main folder. Whoops!
i.imgur.com/mKYRVmy.png
EDIT:
REBEL AIR SUPERIORITY DECK REVEALED!
Hairbuster Ribert:
www.spriters-resource.com/arca…
Flying Tara:
www.spriters-resource.com/ds_d…
2

The republic of Zaftra
Sprites:
mega.nz/#F!OcIiyKLZ!v48yEAGEvT…
(Oh wow! I didn't know you could make a gallery!)
3.

The Pastel Army
Sprites:
imgur.com/a/IJsKq
4.

Bio-Mech Armada "Argus"
Sprites:
sta.sh/0dpmutlm5wq
sta.sh/01kc87ifwcvp
sta.sh/02fgjba57f5c
sta.sh/025jdql64wbn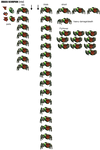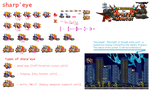 5.

The Principality of Uranametria
Sprites:
imgur.com/Kx6ciZr
imgur.com/2AfUnoc
imgur.com/9iimL6D
imgur.com/CfRWj0o
imgur.com/gyP5vlG
imgur.com/1pnM6wQ
imgur.com/l4b1B1M
imgur.com/Kc4qgbQ
imgur.com/UUtQZwR
imgur.com/NvtPX9e
mechanox.deviantart.com/art/Ur…
6.

Family of the Wolf
Sprites:
sta.sh/2278t0fkzxtk?edit=1
Information: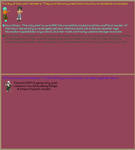 7:

MECIDAV Alliance Armed Force
Sprites:
sta.sh/2fg04k2mq4z
8:

Task Force X
Sprites: