"A Quick Sketch of..."
is a new series of Interviews on different personalities from the Traditional Gallery. Some of them will be underviewed talents, and some (like our first featured deviant) will be some of the best-known and finest artists dA has to offer.
Quick Sketches give us the opportunity to capture an image of someone, a momentary view of their reality... Please welcome today's Sketched deviant: American painter, illustrator and musician
kolaboy
.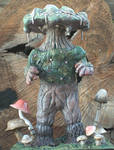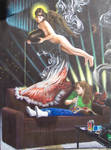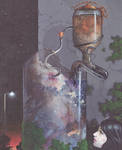 stigmatattoo
What were you doing just now?

I was cutting firewood. I never really appreciated the difficult life of a lumberjack until I began cutting my own firewood.
stigmatattoo
Do you plan your day ahead and if so, do you manage to stick to it?

I plan my day ahead insofar as I have the PM hours free to work on various projects. Fewer distractions in the nighttime.
stigmatattoo
Is there something you have accomplished in your art you're specially proud of?

Yes. When I was 12 I took all my mom's metallic lipstick containers, arranged them in a cluster, and painted the various reflections and re-reflections. I think I learned more about painting from that self-imposed exercise than anything subsequent. And, you'll be happy to know that I never wore any of the lipstick.
stigmatattoo
Is there something you want to do and haven't yet?

Is this painting specific? If so, I'd like to finish the Joan d'Arc series I started some time ago. The stumbling-block being that I can't bring myself to depict her death. It
was
a particularly horrible death...
Non-painting specific: to see the NASA New Horizons probe's photos of the planet (yes, I said planet) Pluto. I'd also like to own one of those carnival fortune telling machines, but I understand they tend to be on the pricey side.
stigmatattoo
You mean those with an animatronic/automaton gypsy inside? There are some carved in wood...

Right. I've always loved automatons, even though as a child I was absolutely terrified of them. There are some older ones that are truly works of art. Unfortunately it seems the making of such things is becoming a lost art. I once dreamed that I stole the James Garfield automaton from Disney World... but I digress.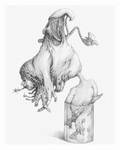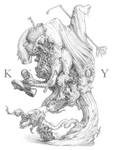 stigmatattoo
Symbolism... Which are your favorite sources?

My childhood memories.
stigmatattoo
Can you disclose some personal codes?

I suppose I could, but beyond a certain point it becomes meaningless. We all have our own set of dots that we spend our life connecting. Even if we all had the same dots, we would each connect them differently. I sometimes watch documentaries dealing with painters and their work, and "art historians" who claim to have decoded this or that in the painters oeuvre. I have to laugh because we are not even able to get into the head of a contemporary painter, or
any
individual for that matter, much less someone living and creating 300 years ago in a world that would be completely alien to us. The key to appreciating a work of art (for me) is channeling the response that it creates in myself into my own creative action. Beyond the broad surface subject, one can never know the intent, and even if we did, it may be so personal to the artist that it would have no relevance to any but he/she/it*, the creator.
*(The "it" would be Cezanne)
stigmatattoo
Your work has been extensively commented on and offline. What is the most flattering thing someone have said about your art? What was the less flattering?

They're both the same, actually: "You're sick."
I'm flattered that some yokel without the slightest possibility of understanding
anything
would pry his hand off the joystick long enough to type a response to something I've done. In a sense, I've performed a public service. But then, after that initial flush of triumph, there is the less flattering aspect of being unloved. Ah, the whimsical world of art, aye?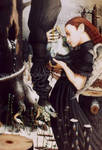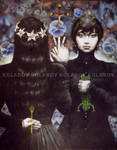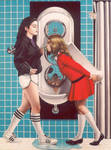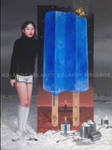 stigmatattoo
Tell me about Cowgirl in the Snow... I understand music runs in the family?

Well, thank you for asking.
Yes, both my brothers are involved in various musical endeavors. My dad teaches violin, and my mom was musically inclined as well.
Cowgirl in the Snow
was initially intended to be an actual band with actual people, but seeing as how actual bands with actual people tend to want to perform, and I do
not
, we failed to have a meeting of minds. So it's just me and my guitars, keyboard, and a drum machine named Gerald. I guess the music could be described as power pop, or as someone once said "bubblegum with thumbtacks" (a good thing?). I've not recorded anything for about two years, so there's a backlog of songs that need tending. Unfortunately, I've found that I can't paint and do the musical activities at the same time. Right now, painting is in the foreground.
* You can listen to Cowgirl in the Snow here*
stigmatattoo
Your favorite work from your Gallery? Why?

I think this one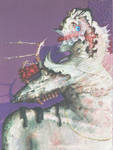 Mainly because it came out of the blue and was completed in a 26 hour stretch. And they say that caffeine is bad for you....
stigmatattoo
A favorite from dA? Why?


Because she's so sweet, beautiful and talented, of course.
Or did you perchance mean an artwork? Yikes, too many to name.
stigmatattoo
I knew you'd say J4n3T... is she the model/inspiration on many of your paintings?

Inspiration, certainly

As per models, I haven't used a live model for ages, but it's comforting to know that I have a perfect one if I need one.
stigmatattoo
Anything else you want to share?

I refuse to wear matching socks, under any circumstance. And by divine serendipitous coincidence I
have
no matching socks. Life's funny like that.