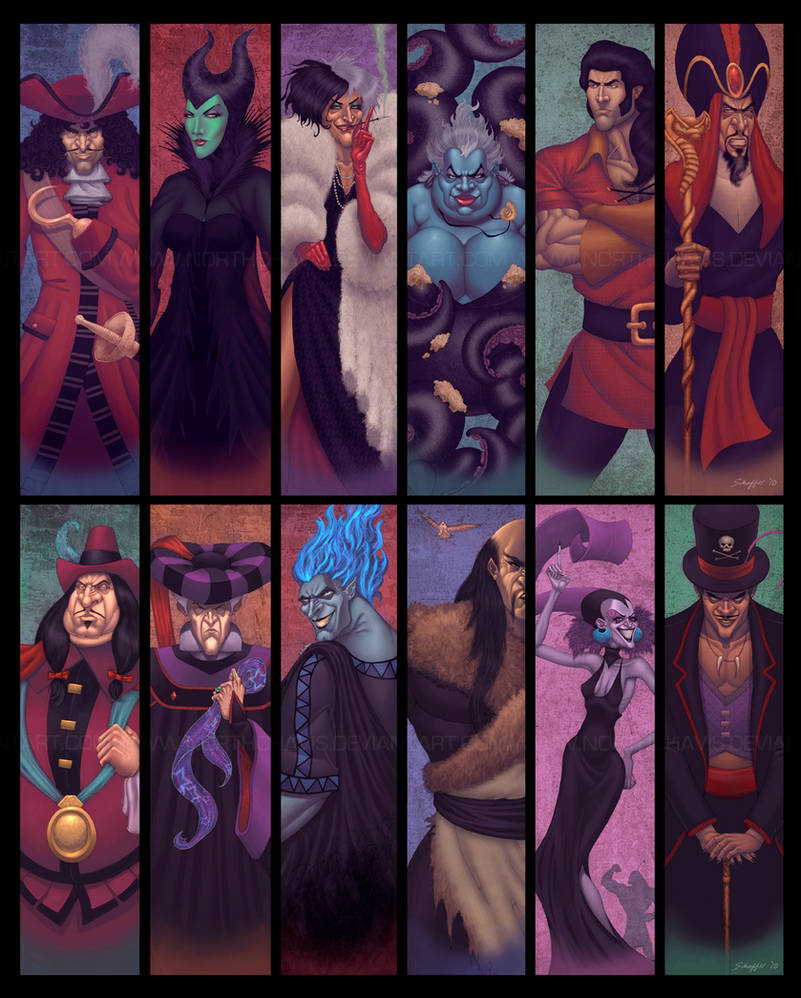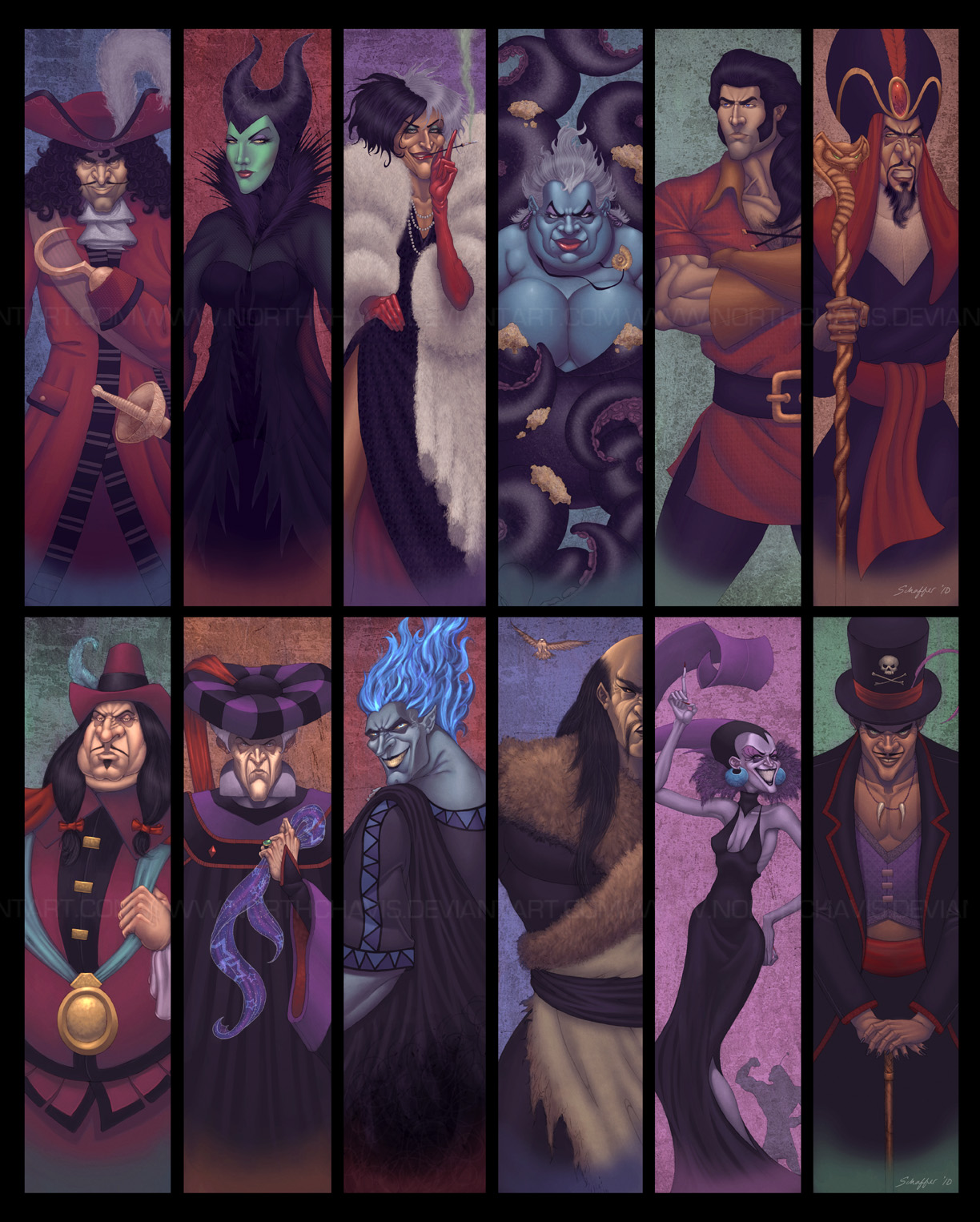 Watch
Wow. So here it is, the piece that has consumed the last month of my time and over 50+ hours: my Disney Villains piece

I've been wanting to draw these beloved characters for some time now and only recently got the courage to do so. I don't know if you're aware but as of this November with "Tangled" there will be exactly 50 canonical Disney full-length animated features. So, needless to say I had a lot of villains to choose from. And after sifting through and nixing all of the animal based villains (as well as the ones that were just plain corny) I came up with a troupe of 24 to draw. And so I sat down and started sketching out this massive layout. The date: April 2009.
Cut to July 2010. After a year-long hiatus, I returned to the piece, and begin putting pencil to paper. Initially, I was going to put all 24 on one sheet of paper, but my scanner decided that the paper could be no larger than 11"x17". So here I am trying to cram 24 characters on a relatively tiny piece of paper... it didn't work. So I sat back, whittled the roster down to my absolute favorite 12 and started again. However, this time, I wanted to have enough space to give the characters some breathing room and not cram them all together. My solution: 2 sheets of 11"x17" paper!
I decided to do the villains in chronological order from earliest appearance to most recent. And since the first 6 were my "classic" faves, I opted to do the new kids on the block first; saving the best for last

I will say, though, that my choice to draw the new 6, then color them, then draw and color the old 6 after was probably not the best choice. It seems that doing other work in between was not a wise decision either, because when I came back to do the new 6, I was in a slightly different mindset and had to do a lot of redrawing to get it to the level I wanted. Man, Captain Hook was a BITCH to draw! I could not get him right to save my life.
I really didn't want to alter the characters too much from their original forms, because they are mostly designed perfectly (plus I wanted them to be recognizable). But, Maleficent was a different story. First of all, I absolutely LOVE Maleficent! I think she is by far the greatest Disney villain and she's hot to boot! Her simple black cloak was a touch boring so I wanted to keep the overall idea, but spice it up some. I also went to great lengths to keep her looking sexy but still a strong villain. She's not only my favorite villain, but she's my fave of the group.
Something else that occurred to me while drawing this was just how far I'd have to stretch my drawing/coloring muscles. I can't think of any other piece where one would have to draw long hair, short hair, curly hair, flaming hair, Caucasian skin, African-American skin, Middle Eastern skin, blue skin, green skin, white skin, dead skin, animal pelt, fur, mesh, horns, tentacles, coral, feathers, gold, jewels, bone, smoke, skinny women, obese women, muscular men, chest hair, sheer fabric and a bird all in one image...! It was a total blast! And lastly, this was a pretty interesting find, and very fitting:
[link]
Top Row (L-R):
1953 – Peter Pan –
Captain Hook
1959 – Sleeping Beauty –
Maleficent
1961 – 101 Dalmatians –
Cruella de Vil
1989 – The Little Mermaid –
Ursula
1991 – Beauty and the Beast –
Gaston
1992 – Aladdin –
Jafar
Bottom Row (L-R):
1995 – Pocahontas –
Governor Ratcliffe
1996 – The Hunchback of Notre Dame –
Claude Frollo
1997 – Hercules –
Hades
1998 – Mulan –
Shan Yu
2000 – The Emperor's New Groove –
Yzma
2009 – The Princess and the Frog –
Doctor Facilier
I really hope you all enjoy this piece. I had an enormous amount of fun with it, and really, at the end of the day, that's what making art should be all about. Dig.
Close Ups:

Characters © Disney
Image © Stephen Arthur Schaffer
Textures: [link]
Brushes: `adonihs
Tools: Photoshop CS
Dimensions: 17"x22" @ 300 DPI
Time: 50+ hours
Daily Deviation
Given 2010-08-30