No, it's not Mabel Pines bashing. It's about a journal entry and a status post then

posted about a fanart of Mabel he posted but was removed along with a piece of evidence who goes to an archived copy on Webcite, another website archive who play the same role as Archive.is and the Wayback Machine.
www.webcitation.org/6yO8CdZWj

The War of the UnderpantsGreetings, my dear audience! I'm mickeyelric11, and today I bring you exciting news: I have lost my virginity!...no, I don't mean I had sex, but that an asshole and deviantART fucked with me.
A couple of days ago, I got my very first report because of a "politically incorrect" fanart, and then I had it removed. Therefore, I'm going to tell you the whole story in this journal. So, get a comfortable chair, make some pop corn, and prepare to palm your face in shame for others.

I'm pretty sure many of you still remember my "controversial" work I made about Mabel Pines, right? I'm talking about my Toy Girls piece: "Toy Girls – Collectibles Series 10: Mabel Pines". It was a remake of the character from "Gravity Falls" for my project of Toy Girls, but, in that occasion, I
Here the archived link located on the Wayback Machine as well as Archive.is showing the comments about the fanarts of Mabel in question.
web.archive.org/web/2018021122…
archive.is/vMw2b
That give me food for thoughts, some of you remember my previous journal entries about Dan Schneider along with
DA alumni EC-707
.

From EC-707 to Dan Schneider and Chris Savino 2This is a short and quick follow-up to a previous journal entry itself a follow-up a other previous journal entries. From EC-707 to Dan Schneider and Chris Savino
From Chris Savino to Zcat6 and Dan Schneider
The truth about Hollywood
That episode from Victorious titled "Survival of the Hottest" where Ariana Grande received water but not in the "You Can't do that in Television"(YCDTOTV)* way and from what I read on the trivia section, that episode aired on Ariana Grande 17th birthday. We can see clips of that moment on Youtube and now it's had been turned into a meme. If we go in a uproar about

From EC-707 to Dan Schneider and Chris SavinoThis is a follow-up to previous journal entries then I did and I think I should name the guy in question who did controversial fanarts, DA alumni EC-707.

:iconWASH-R0T0M: did a good journal entry about EC-707 along with 2 former journal entries from a former DA alumni archived on Archive.is
archive.fo/WNPA1
archive.fo/vvjES

What's the link with Chris Savino and Dan Schneider? Besides that article from RedState about Dan Schneider https://www.redstate.com/kiradavis/2017/10/24/next-big-hollywood-sex-scandal-already-breaking...at-nickelodeon/ along with this discussion on another forum.

Nickelodeon splits with Dan SchneiderHere some articles about Nickelodeon splitting with Dan Schneider from http://deadline.com/2018/03/nickelodeon-tv-series-producer-dan-schneider-part-ways-1202353698/
http://variety.com/2018/tv/news/nickelodeon-dan-schneider-1202736791/ along with these posts on Twitter. https://twitter.com/JohnDoe78359022/status/978403425758171137?s=09
https://twitter.com/search?f=tweets&vertical=default&q=%23danschneider&src=typd
I guess Nickelodeon decided to drop him before the potato became too hot to handle.
I also spotted some vlogs about this. The Dan Schneider part in the 2nd vlog begins at 1:05:28
And this AMV about Dan Schneider's antics.
Edit: I wonder if this fanart of Timmy and Trixie escaping from Dan Schneider unsuperv
So that fanart of Mabel Pines offended you but what about that Victorious episode showing an wet Ariana Grande moment before we know who's Dan Schneider really is?
And that inspired me for this meme who might said something about double-standards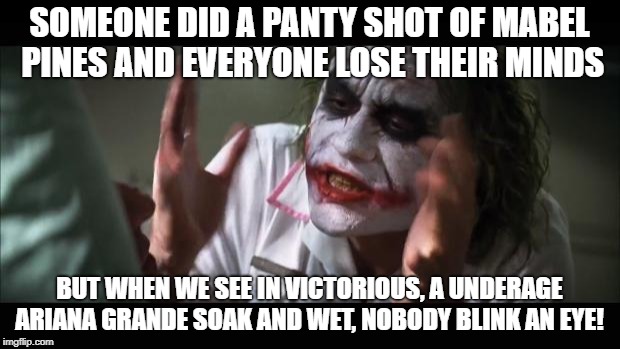 Come to think of it, I repost that meme then I mentionned in a previous journal entry about Dan Schneider who might worth a 1000 words.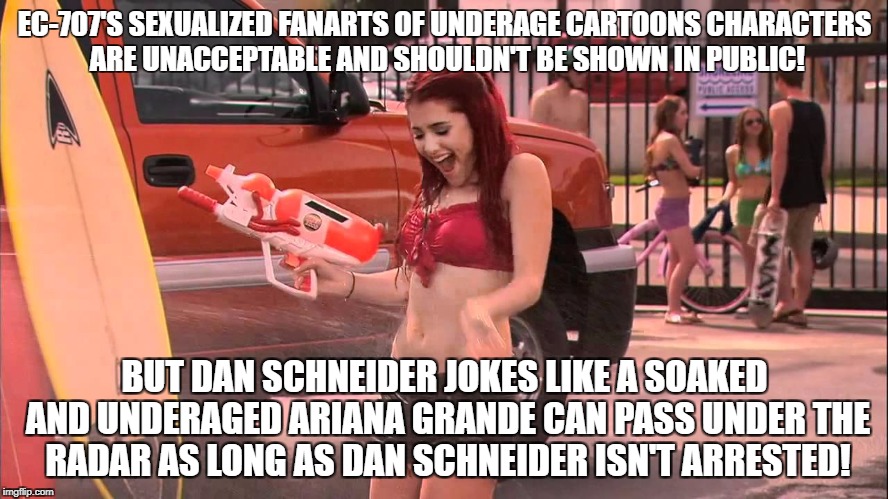 And I conclude with this vlog about Dan Schneider.
Edit: A big thank you for the Kiwifarm user then I won't name it for safety reasons for the free publicity and a well needed Streisand effect.

archive.is/mf9BX
Edit #2: Another thank you to another Kiwifarm user nicknamed Troglodyte.35 for the free publicity.