[DL] Background Ponies Enhanced Version (Ragdolls)
Description
MY CHANNEL:
www.youtube.com/channel/UC2pPk…
Image made by

Original (and outdated) models by

New updated and "refreshed" version by me

Since I had these models in SFM folder, and since everyone has forgotten them, I decided to "wash and clean" them, and plus, I applied them the enhanced update, and like every model that I release, they are compatible with Gmod and SFM version.
What's new in this version:
*enhanced update (both females and males);
*updated textures;
*models are supported by this
about animations (so you must download what I linked to have access to the animations, and eventually, you'll have to download it again, in case of new animations. For more informations, check the description);
Hope you like the pack, and for who wants to have the damn eyebrows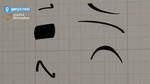 <- Here.
About flexes for Gmod users, they require this tool steamcommunity.com/sharedfiles…

Update 16/07/2018
*added mirrored manes (and mirrored jigglebones);
*added main bones for the manes;
*replaced some flexes about the mouth (the ones about up and down) with two stereo ones (so they'll work with presets too);
*other minor bugs have been fixed.
Image size
3840x2160px 6.91 MB