The APN Guide: Water in Photography
AnimalsPlantsNature
Your Home for APN Photography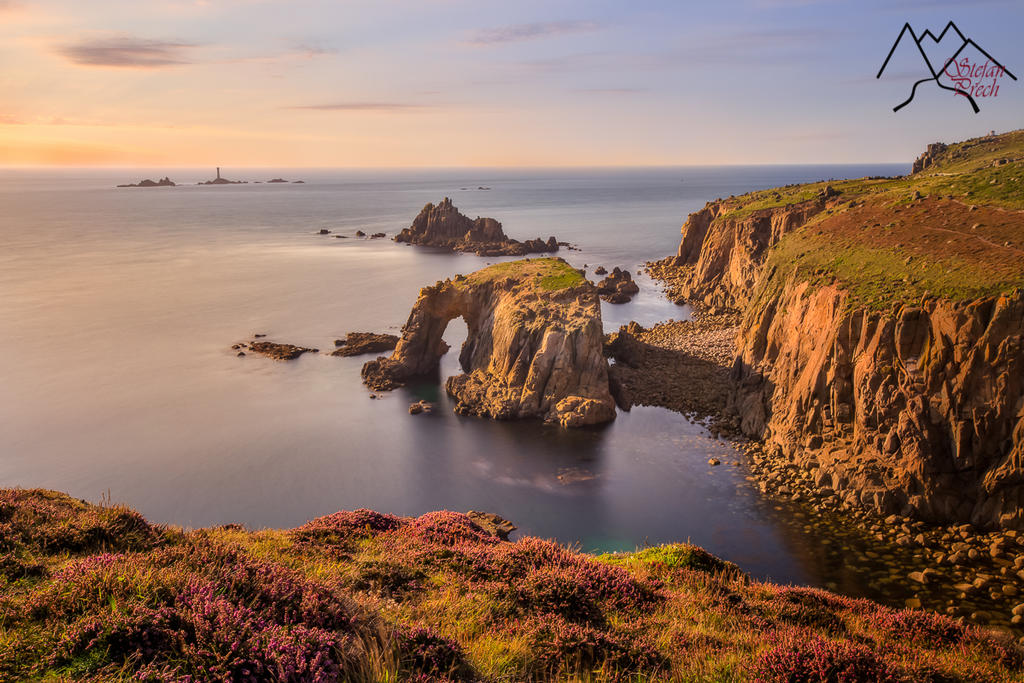 Why do we try to photograph water?
Water is, as everyone knows, the source of life. This is precisely why it has a fascinating effect to us since the beginning of time. In Religions (to the baptismal), essence (source of life), as well as in art (E.g. gargoyles) one could repeatedly see our fascination with water. Water encourages Farming, economy, and development; it is therefore the origin of sustained prosperity. There are also thousands of other reasons, why water attracts us, and why we feel comfortable while watching it. One of the biggest Reasons for this is probably the unique dynamic off liquids. The dynamic component is, what we are trying to photograph and what the following tutorial is about.
How Water is used in Photography:
When we take a closer look on water as a dynamic element, we see several conspicuous features. Rapidly moving water forms small droplets, which are then being moved in random traces, splashes occur. This happens for example, when water hits obstacles with high force. One could easily observe this in mountain streams or the surf. As well wind and other forces often affect the surface of the water to rhythmic movements, then waves occur. In photography our part is now to observe all of these movements and freeze them in time. If you make mistakes here, you may destroy all your dynamic components and lose the emotion you would like your photograph to emit. There are also moments where the focus is laying on other effects of the water, for example its reflection characteristics.
So in my opinion, there are 3 striking elements, which are mainly used in waterscape Photography.
1. Water as a droplet, perfect for freeze a very small moment.
2. Water as a line, moving drops, flow or waves, all of them show the movement.
3. Water as surface or silky shape, used for reflections or to cut out restlessness.
1. Water as a Point or a droplet:
As already told this variant is used to freeze special moments. Therefore, one requires perfect lighting conditions. With not enough light, it's nearly impossible to get the necessary short exposure times; wild sea waves, or objects on the water surface, are typical subjects for this technique. Therefore, it's very often used in Sports and animal photography, because it's a very documentary style of capturing moments. The tension of a scene can be illustrated perfectly using this approach. This form photography is often used in combination with lenses that offers high light gathering capabilities. On the one hand, to capture the crisp detail of a scene your objective supports shorter shutter times; on the other hand one can get a wonderful bokeh with an extended shutter speed. Typical shutter times lay in the range of 1/250s – 1/8000s, light is a very important aspect when wishing to depict water as a point or droplet.
2. Water as a line:
It's absolutely necessary here, to observe the scene in depth to get good results. Subsequently, one has to optimize the shutter speed, that small water drops or the water surface, form lines which underline the look of the whole image. As mentioned above, it's a great technique for coastlines or rivers, where a lot of motion appears. Appearing lines can also be incorporated into the image composition. The motion pathways become visible now for the observer, so everyone can imagine and feel the dynamics while watching. A point forms a line, which has a certain direction and this can now be used as a striking design element (leading lines, triangles, tension). In general, this technique is often used, where one wants to underline dynamics. As already mentioned, the right exposure time plays a significant role here. It is changing from situation to situation, so one could just optimize it by trial and error. It's absolutely wise, to take several images with identical shutter speeds in this state, because there are always slightly different shapes one can observe. Not every wave looks the same as the next, not every splash is identical. In the end, this is where the art of waterscape photography lies. Depending on situations exposure times in range between 1/40s … 1/5s … 5s are commonly used. Important is, that the new lines fit into the image; therefore it's absolutely necessary to take note of the composition from the beginning of your shoot.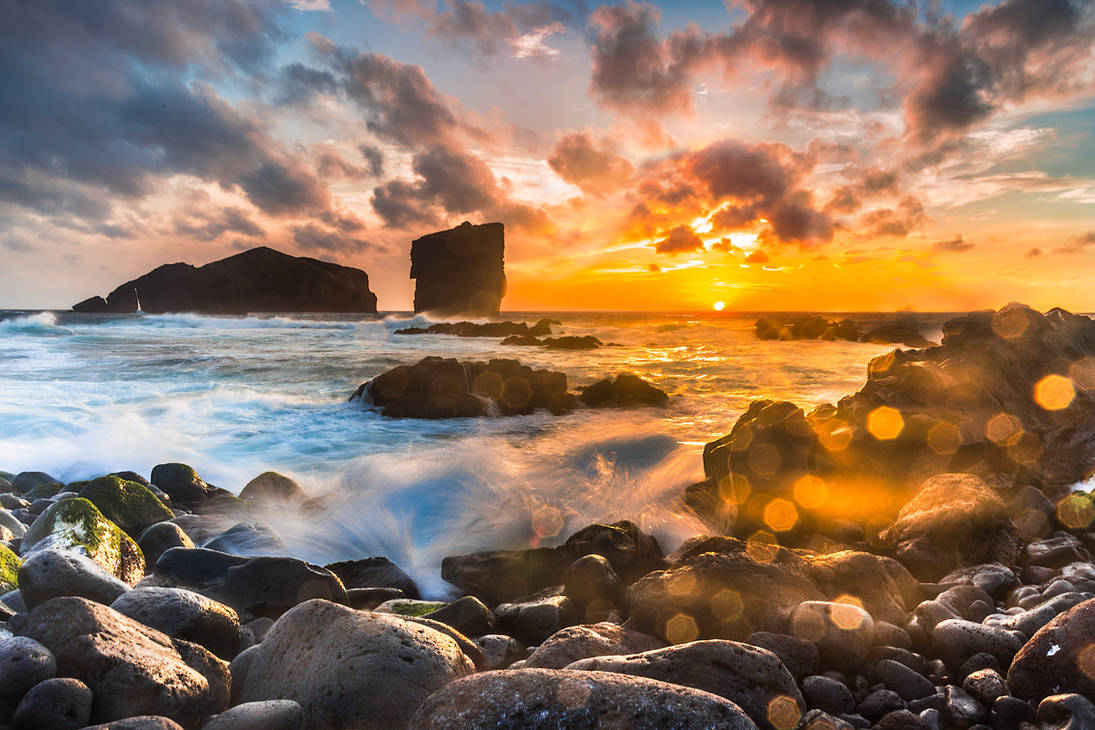 look at the beautifull lines in the front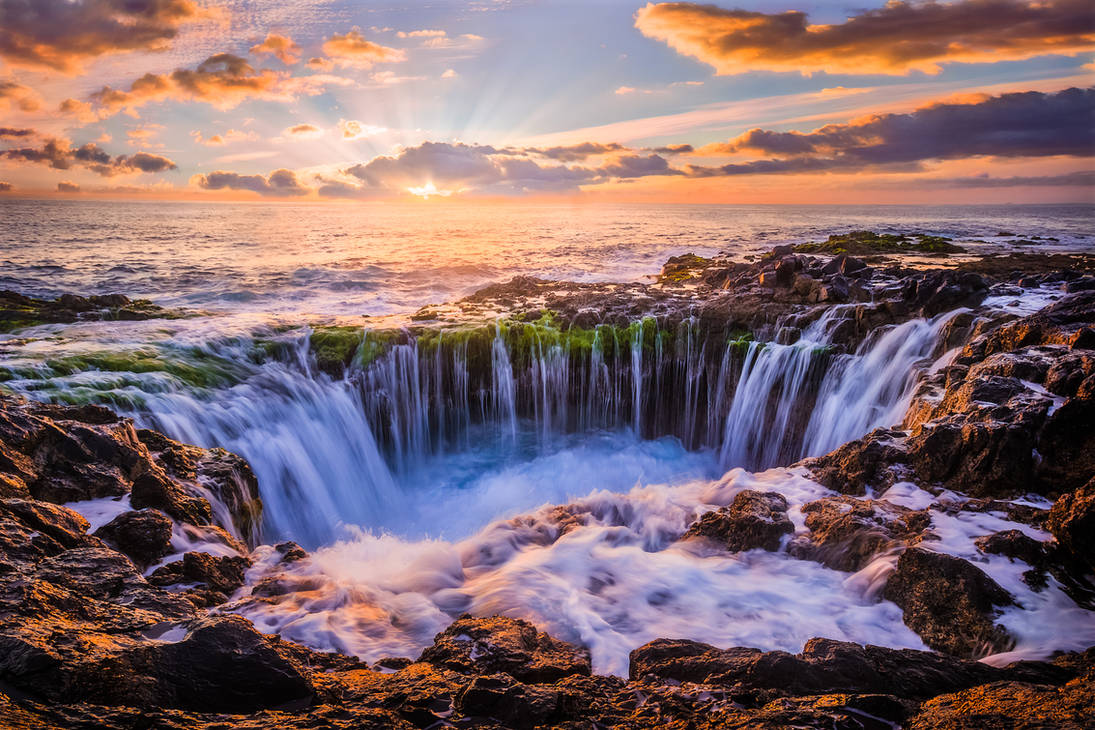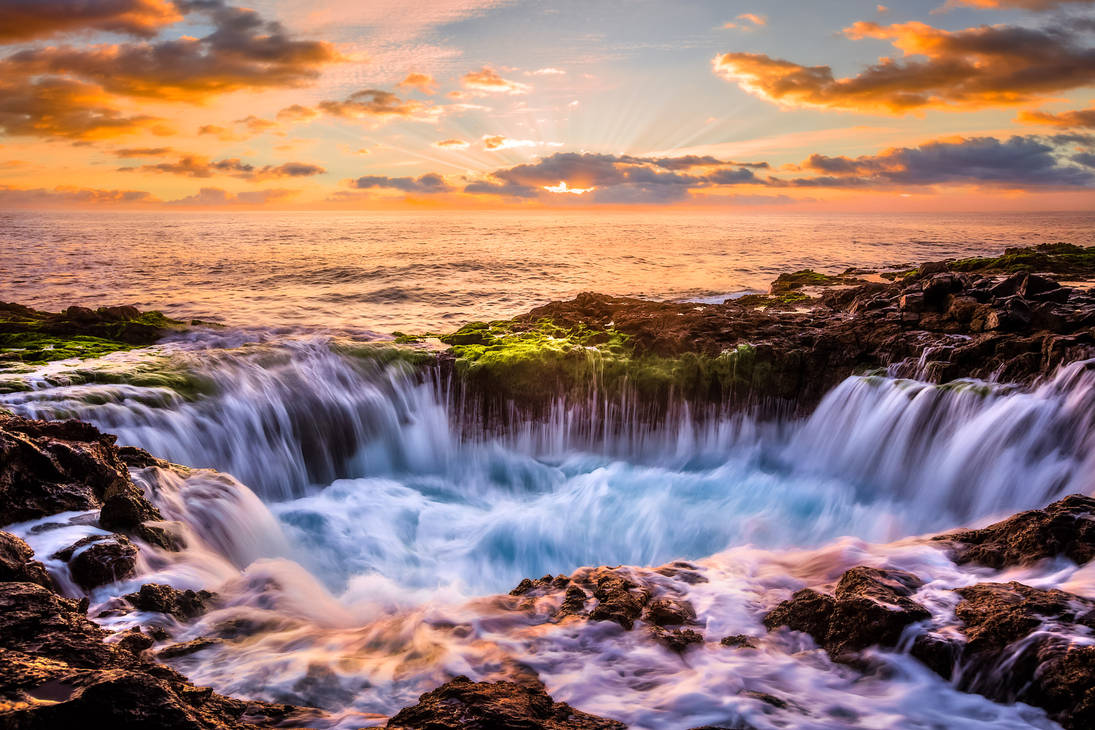 here one could observe two different exposure times and how the lines change
3. Water as a Surface, veil:
When the exposure time is increased further, the details get out washed more and more; they can become completely lost to the viewer. A mean value is formed, a basis is manifested, a vial occurs. What does this mean for us? We are no longer searching for that one splash; we want to capture hundreds of those splashes over time. All of them differ slightly in their directions, a movement pattern is formed. The creek will get a silky surface. Waves lose themselves to a surface, a plate. This Technique is perfect to reduce disturbing movements in an Image. Reflections will be increased, dynamics reduced, details become washed out. On the sea this could take several minutes to get good results, on a dynamic creek it could just take seconds. To achieve minutes of exposure time, it's necessary to use special Filters (neutral density Filter), where only a small fraction of light passes through and reaches the sensor. This filter allows the photographer to take long-exposure shots while daylight. It should also be noted, that too long of exposure times can lead to overheated sensors, this may cause undesirable phenomena; E.g. Hot Pixel. Therefore, is absolutely necessary to find a balance in exposure time to optimize the preferred results. Optimizing long exposure shots is quiet time consuming; this must be planned differently for every project.