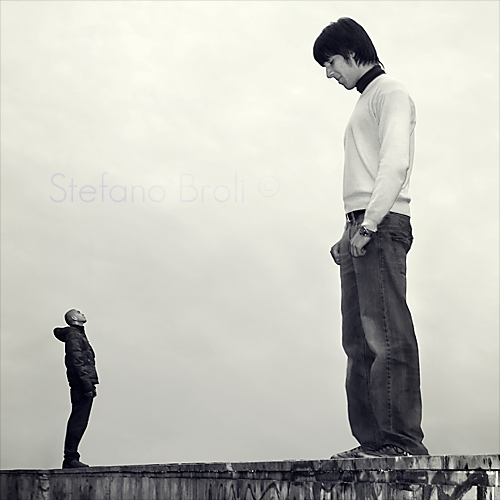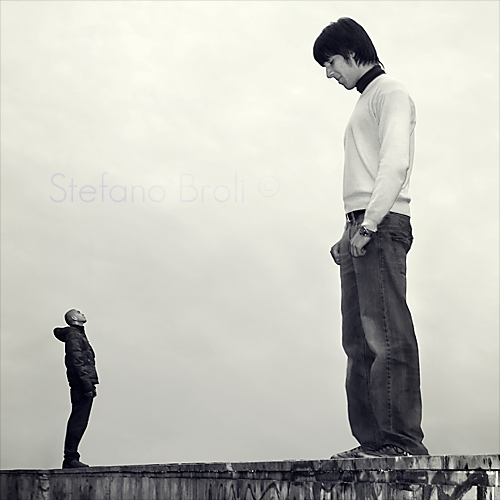 NO PHOTOMANIPULATION.

Only perspective job.




"Lorenzo allora, tu mettiti qui"
"Ok, girati di 90° verso sinistra"
"90° ho detto, non devi fare un giro su te stesso"
"Ok, adesso guarda verso il basso, rimani così"
"Gas, tu invece vai più in là"
"Gas, arriva alla fine del muretto, per favore.
"Gas non rompere le palle, vai in fondo al muretto!"
"Dai la prossima la facciamo con te che fai il gigante, Ok?"
"Ok, ora alza lo sguardo."
"Gas! Di meno, non è che devi parlare con Dio!"
"Levati quel cappello Gas!"
"Abbassa quel braccio, non ti ho detto di mandare affan#ulo Lorenzo!"
"E levati quel ca##o di cappello dalla faccia!"
"Lorenzo, chi ti ha detto di muoverti?"
"Ma perchè devi ridere anche quando sono assolutamente serio?"
"Ecco, Lorenzo hai capito dove devi guardare?"
"Vabbè, guarda in basso, ti prego"
"Gas non ti devi muovere, non devi fiatare, non devi respirare, devi stare fermo!!"

"Fermi."




"So, Lorenzo, you'll stay here."
"Ok, turn left."
"I told you to turn left, not to turn all around yourself!"
"Ok, now look down and don't move."
"Gas, you go further down the wall."
"Gas, just go to the end of the wall, please."
"Gas don't piss around, go to the end of the wall!"
"Next time you're doing the giant, ok?"
"Ok, now look up."
"Gas! Not so much, it's not like you gotta talk to god!"
"Take off that hat Gas!"
"Lower that arm, I didn't tell you to fuck him off!"
"Take off that fucking hat!!"
"Lorenzo, who told you to move?"
"Just why do you have to laugh even when I'm absolutely serious?"
"Ok, so do you know where do you have to look?"
"Jesus. Listen, just look down, please."
"Gas don't move, don't talk, don't breathe, just stand still!!"

"Don't move."





Click.