Sometimes I write stuff.
My Vocaloid fanfiction works are archived on fanfiction.net and/or archiveofourown.org under the same username; SteelDollS. Some are dark, some are pure, unadulterated plotless fluff, and a small portion are me being a giant, cheeky douche with intentionally terribly written pieces of majestic crapola.
I am also sometimes on google plus (username Argh Argh), and I hoard many Kaito things on playlists on youtube. Especially cute, sexy, topless Kaito things. Oh Kaito, how are you so delicious, sexy, and wonderful? I love you so much.
...
I believe in helping each other when things are hard. I don't believe in people who rely on hysterical drama, rather than on seeking out and learning greater accuracy, so that they can be true to themselves better. We're supposed to be here to help each other, not become precious snowflakes. We will never be perfect, but trying might get us somewhere at least.
...
Feel free to chat me up. (If you want to make sure I see a thing, please tag or note me.)
Also- I will eventually keep writing. In between shitposting I promise ;3;
I discovered you can add stamps here. Enjoy a plethora of them ._.







:thumb158583868:

:thumb315064147:








:thumb653489239:



:thumb630665161::thumb633633191:












:thumb343216738:




















:thumb355502728: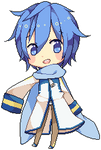 Favourite Visual Artist
KEI
Favourite Bands / Musical Artists
Kaito from Vocaloid
Favourite Books
The Unthinkable by Amanda Ripley
Favourite Writers
Jade (GundamW fandom), CheriiboiPanda (Vocaloid), MarkScyther (Vocaloid)
Favourite Games
Final Fantasy 4
Tools of the Trade
GIMP, Paint, digital camera, MMD, MME
Other Interests
Kaito and Akaito from Vocaloid, ALL THE HOMO, amusing crap