After browsing and practicing on many stock photos, I have decided to compile a couple of tips for taking stock photos. I don't see myself as a professional at all, but I have noticed a couple of issues with my amateur experience and want to highlight those.
I include examples of photos that are done right, because I don't want to show examples of where it was done wrong. I don't want to put people on the spot like that.
I'm focusing mostly on model stock photos, but many, if not all, of these tips are applicable to other types of stock photos too.
1.
Make sure the photo is in focus.
If it isn't in focus, it cannot be made in focus on Photoshop. If the photo fails in this aspect then the other aspects go down with it.
<da:thumb id="534615697"/>
This photo by
jl-modelstock
is beautifully in focus, so the details are clear and nothing gets "lost."
2. Be aware of the sunlight.
Sunlight can easily spoil a photo and make certain parts over exposed. Rather stand in the shade. Also avoid partial direct sunlight as this will result in shadowy parts and over exposed parts that are extremely difficult to fix.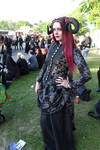 Even though this photo by
MadaleySelket
is an outside photo taken on a sunny day, the model is standing in the shade, avoiding direct sunlight and harsh shadows.
3. Make sure there is enough light on the model or object.
Reflectors are valuable in this regard. If you do not have the funds to buy a reflector or two, there are tutorials on the internet that'll show you how to improvise and make your own reflectors.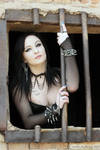 Here is one of my own non-stock photos to show what a difference a reflector can make. Even though the model (
Kimmy Fae Chaye
) is standing inside the building, she stands out against the background because we used a reflector to brighten the area where she was standing. Without a reflector she would've been too dark and would've melted into the background with the outside of the building being the main focus instead of the model.
4. Avoid graininess.
Graininess appears when the ISO is too high, the light is too low, and the shutter speed is too slow. Other factors like the camera and lens used can also contribute to grain in photos. There are tutorials available for this issue. A good idea is to play around with your settings and see what works for different situations. Having to edit out grain in a photo manipulation is very difficult and would deter people from using grainy images.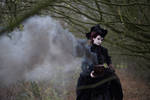 This photo by
S-T-A-R-gazer
is a photo that could easily have been grainy, because the setting is that difficult one in between light and dark which is too light for flash if you want this soft look, but dark enough that grain could easily happen.
5. Avoid cutting off arms, feet, elbows, etc.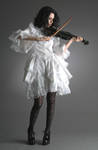 This photo by
mjranum-stock
is a good example of a nice full body photo where nothing is cut off. If the elbow at the left was cut off then it would've limited the possibilities of the photo. The same goes for if the feet were cut off. With upper body photos there are certain guidelines about where to cut off photos. If the model is wearing a big or flowy dress, try not to cut of parts of the dress. Other things too look out for are: wings, hat brims, strands of hair, headdresses, and tops of heads. Remember that you might limit what can be done with a photo if you cut off parts of the model, their costume, their hair or their prop.
6. The iron is your friend.
Too many times have I seen good photos that were spoiled by clothing that was wrinkly. While this can be fixed in Photoshop, it adds more work than necessary and sometimes the garment might fit poorly because it is wrinkled. To get the most out of the costumes, make sure that they are clean and ironed so they can look their best. This, of course, doesn't apply to instances where the point is to create a grungy or down-trodden look.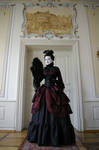 Photo by
bloodymarie-stock
. Look how nice and ironed that skirt is

7. Don't over edit.
Leave something for the editors to do. Adding effects will limit the usage of your photo.
This beautiful stock photo by
La-Esmerelda-stock
is a good example of a well done stock photo that has been left unedited and provides the editor with a lot more options.
8. Bigger is better.
<da:thumb id="337589556"/>
This photo by
Jumeira-Nox
is a good sized photo, which allows the editor to use only part of the photo (e.g. a portrait crop) and still have a decent resolution photo. It can also be used with large sized backgrounds without having to resize the background and end up with a really small or larger pixelated end result.