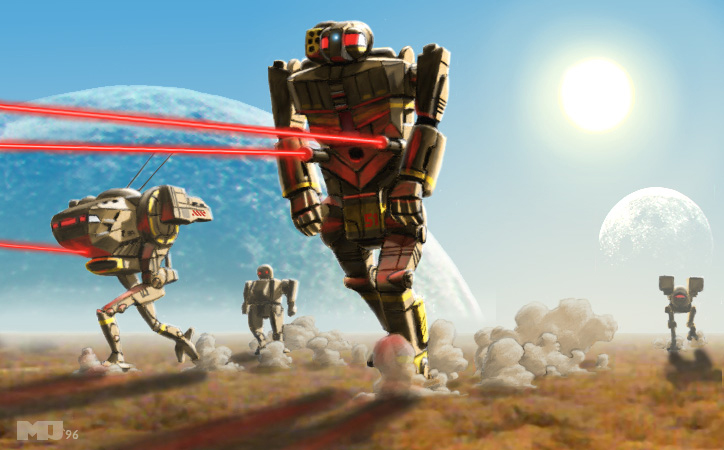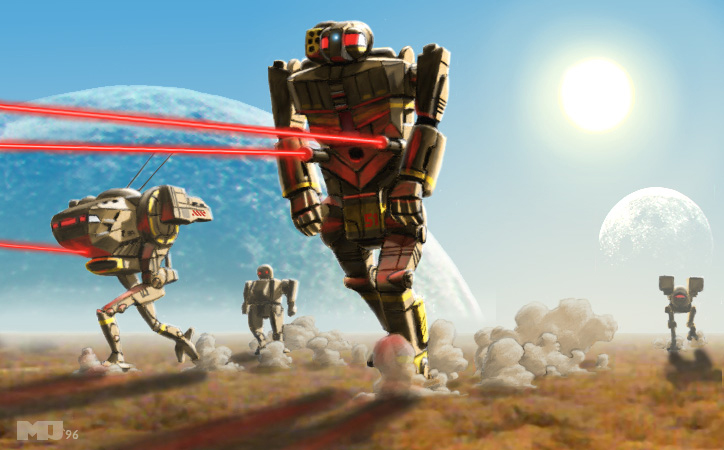 Watch
A tiny painting from the Battletech 4th Edition Box Set, FASA, 1996. Believe it or not, this is the actual size I painted it at... but it was the mid-90s, and when your hard drive was only 500Megs, you made the art as small as you could get away with.

lol....good times.... I remember thinking how awesome my Pentium was..... now my bloody wrist watch looks at it and laughs! I kinda expect the grasshopper to be blaring "BRAAAIIIIIIIIINS!" over the PA system......
Reply

Let's see... left to right... Cicada, Whitworth, Grasshopper, and a Catapult.

That's scary. I haven't played Battletech in 10 years and I can identify all of them.

That aside, I love the skyline. A fault of the game was that it didn't really emphasise the idea of *alien* worlds. You could fight in deserts, mountains, forests, cities... but it still felt a lot like the Mechs were fighting on Earth.
Reply

Close. What you mistook for a Whitworth is a Quickdraw
Reply

Mmmm, very true. I always found that a little disappointing too. Totally off-topic, but it's something that impressed me with the trailer for Abrams' new Star Trek movie - a planet with weird red plants!
Reply

As long as they don't suddenly switch colours with no warning. The way Vulcan's sky turned blue in Abrams' first Trek movie still annoys me...
Reply