Hello, I'm Staypee!
I like to draw my fave characters and otps, but I'm also working on improving more and making original content. Thanks very much for the watch ❤️

PLEASE FOLLOW ME ON MY INSTAGRAM OR TWITTER ACCOUNT SINCE I'M VERY MUCH ACTIVE THERE. Thank you.

CHIBI COMMISSIONS ARE OPEN!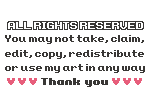 Help me create more art!

If you like and enjoy my work, and you'd like to support me? Every help is greatly appreciated! My love and prayers go to you