Update 5/24/2019: Final poll is over and the winners have already been decided! Thank you to everyone who participated and all of your work was beautiful!
1st Place:
by

who gets two requests from me, 500 points and their work in the featured folder.
2nd Place: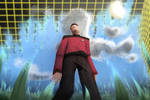 by

who gets one request from me, 400 points and their work in the featured folder.
3rd Place:
by

who gets 300 points and their work in the featured folder.
You can use your requests to ask me to write a story for you or to pay for your commission, provided the latter is less than $100. As for writing requests, here are some examples of what I've written for other people. I'll take any writing request, provided it's something I feel comfortable writing about.

Contest Prize: A Star Trek Halloween

Captain's Personal Log Stardate Unknown
Today's a very special day, Halloween on the U.S.S. Enterprise and we're all throwing a party! It has the usual, music, dancing, food, but the most important part is the costume contest! The rules are simple, come in a costume and everyone votes for the best one, which is usually my costume. Unfortunately, you can't vote for yourself in order to be a good sportsman. Just as well, I don't need to vote for myself to win. Especially when I'm going as the most iconic horror villain in all of history! That's right, Michael Myers, the young boy who got sent to an asylum for murdering his sister! I've got everything from the strange clothes to the fake blood and the butcher knife! I know Michael Myers is supposed to have a mask, but do you really want to cover up this beautiful face?
I walked into the Rec Room and the crew went all out decorating for the party! Cobwebs, rubber spiders, bats, Hallowee
for


SS: Confection Cuties Fanfic"Can you believe Lila?" Olivia said fuming as she and her friends walked along the street. "First she cheats off of my test and then frames me for it! So I have to stay after school tomorrow and take a makeup test!"
"There goes your Friday," Hayley remarked, causing Olivia's glare to deepen.
"Well, maybe if you explain what happened, you won't have to come in tomorrow," Charlotte suggested.
"I don't know..." Olivia contemplated. "It's my word against Lila's and I have a bit of a 'boy who cried wolf' history at school."
"Meaning you've lied so often no one believes you," Hayley pointed out. "Even when you're telling the truth."
"Thanks, Hayley, I think I made that clear," Olivia said in a warning tone.
"Maybe if you didn't lie so much, Lila wouldn't have gotten away with this," Floressa said, as if she was explaining the obvious to a child.
"Thank you, Captain Obvious," Olivia said exasperatedly. "You've got any other wisdom you want to share?"
"How about I
for


:Request: Charm Cafe: Fanfic Untitled

Lani took a glimpse in the music store, seeing Mitch working at the counter. All right, it was her moment. Time to go in there and show him who she was. All she had to do was open the door. Well, she would, if she could get her arm to move. It was funny, she could imagine herself moving her arm and opening the door but she couldn't bring herself to follow through.
How is it that I can fight monsters no problem but, when it comes to talking to a guy, I completely freeze up? Lani asked.
Well, no more. If she could risk her life saving the world, she could talk to Mitch no problem. All she had to do was open the door.
"You going to open that door sometime today, or are you just going to stand outside loitering?" a voice with a Hispanic accent said.
Lani turned around to see a fully-grown mocha skinned Hispanic woman standing outside the door. Her straight jet-black hair cut in layers, with the front part stopping at her shoulders whil
for


Request: Wooing Miss Redwood

A/N: Requested by :iconartycomicfangirl:. I don't own anything in this fanfic. The Lorax belongs to Dr. Seuss and Illumination and Mia belongs to the fanfic author who requested it. I never took on someone else's OC, so here's to hoping I get it right.
* * *
"Mia," Once-ler said dreamily as he walked the streets of Greenville thinking of the blonde haired blue eyed beauty.
He'd been hypnotized by that waitress since the day he saw her in Truffula forest wearing her green dress and blue scarf. She was the only one on his side when he chopped down the tree and the only one in Greenville who treated him with kindness. Mia was everything Once-ler wanted in a woman. Only problem was Once-ler wasn't what anyone would want in a man.
He remembered when he was in high school and asked Isabella for advice about women and what she
for


:Request: Playtime BluesTrent Coleman gazed at the trees, enjoying the sounds of nature. The air was fresh, the Swomee-Swans were singing, the Humming-Fish were swimming and the Bar-Ba-Loots were playing. It was a nice change from Fakeville, where everyone lived in a dome cut off from the rest of the world, paying for oxygen and forgetting about nature entirely. If there was even a book about trees and nature, the mayor and her citizens burned it down a long time ago. He was lucky to escape with his life. A ball bounced off Trent's head, interrupting his thoughts.
"Play with me!" Pipsqueak's voice demanded behind him.
Trent turned around to see the tiny Bar-Ba-Loot pick up a rubber ball that looked small to Trent but, to Pipsqueak, was the Bar-Ba-Loot equivalent of carrying a boulder. Trent smiled at his little friend.
"Where did you get the ball?" Trent asked.
"Once-ler gave it to me," Pipsqueak said cheerfully. "He taught me this game called catch!"
To anyone else,
for

My next contest is going to be about Shore Leave, but I'm going to give you a breather, so I'm not starting that one until mid or late June.
Update 5/23/2019: Second place has been decided, so it's time for the third and final poll!
www.deviantart.com/suburbantim…
Update 5/22/2019: Since first place has already been decided, it's time to vote for second place.
www.deviantart.com/suburbantim…
Update 5/21/2019: It's been awhile and many votes are tied, so I'm introducing three tie-breaker rounds.  First one will be for first place.
www.deviantart.com/suburbantim…
The one that gets less votes will be a contender for second place.
Update 5/2/2019: I just put up the poll for the contest, which you can find at
www.deviantart.com/suburbantim…
 Don't forget to cast your vote!
Update 5/1/2019:
just dropped out of the contest, so I now have every entry I need and I will set up the poll tomorrow.
Warning: This is the last day for you to submit your entry.  So, anyone who hasn't submitted their entry better submit it today or be disqualified unless you have a legitimate reason.
Update 4/30/2019:

dropped out of the contest and, since the deadline is tomorrow, I won't be asking anyone to fill the tenth spot last minute like this.  However, I will remind the remaining participants that the deadline is tomorrow and I only grant extensions if the reason for one is legit.
Warning:  Only two days left until the deadline!  If you don't get your entry in by May 1st, you will be disqualified!
Update 4/24/2019-I decided to, once again, extend the deadline to May 1st because Tuesday is when I post Captain's Logs for Star Trek Online on my video game blog.  I'm completely free on Wednesdays, so I don't have to worry about other obligations when I make the poll.
Update 4/16/2019-

took the tenth spot, so all of the contest spots are now filled.
Update 4/11/2019-

dropped out of the contest due to personal reasons.  So the tenth spot is now open.  Anyone who wants to take it and doesn't mind joining in at the last minute can comment that they want to join.
Update 4/6/2019-I decided to extend the deadline to April 30th because April 27th is on a Saturday and I work during the weekend, so I won't have time to set up a poll.  I also board game on Monday and I don't want to excited about the poll on the same day.
Holodeck capabilities in the franchise:  Okay, I feel that I should discuss this in more detail, because I said that one of the rules was that you had to adhere to the laws of the holodeck according to the Star Trek century you set it in.  In the 22nd Century (ENT), Starfleet didn't have holodecks but there were more advanced species that did have holodecks, as seen in the episode where Trip gets pregnant.  In the 23rd Century (DIS, TOS, TAS), they were able to create environments and, when they created people, it was on the level of an old Atari game, they couldn't really talk and they were just there to shoot and collect points, or to create sparring partners.  I imagine this often being used as a training exercise as well as a way to blow off steam.  By the 24th Century (TNG, DS9, VOY), They could use it to create people that talk and actually go on true adventures.  In other words, the sky's the limit.  I'll admit, I expect most entries to be set in the 24th Century because, let's face it, that would be the easiest.  However, if you feel up to the challenge, try to do one for the 23rd Century.  If you want a bigger challenge, you can try the advanced alien race in the 22nd Century option.
Update 2/24/2019-I just got the last participate, meaning that the contest officially begins!  All you have to do is draw or write your entry and submit it to the contest folder!  Bullying, plagiarism, copying, hate art or writing and propaganda are not allowed and the deadline is April 27th.  Have fun and be sure to submit your entries by then!
Maybe it's a little too soon to start another contest after the last one ended, but I came up with this idea and, I have to admit, I'm pretty excited about it.  Since I got most of my requests done from the last two contests, I thought I would start sign ups right now.  As you can tell from the title, the theme of this contest is the Holodeck or Holosuite.  Create artwork or stories with either established characters or original characters enjoying the Holodeck or Holosuite.  You can draw a scene from a holodeck episode, or draw and write about your own original holodeck adventure.  You can do anything you want, from just creating environments, creating a new adventure with some of the holodeck programs that were featured in the show, such as Dixon Hill or Bashir's secret agent program, make a program entirely new, or even use it as an excuse to create crossovers.  These crossovers can be something legit, such as Tom Paris playing Starlord in a Guardians of the Galaxy program, or something crazy, such as Sisko having a cooking competition with Ice Bear from We Bare Bears.  Your only limit is that you have to abide by the limits of the holographic technology created in that century.  TAS could only create environments and DIS could only make glorified shoot 'em up games.  ENT only had a holodeck in one episode and that's because they visited a different ship.  Even though the holodeck had a bad habit of malfunctioning, you're not required to have that element in your work.  Holodeck malfunctions were a safety net for when the writers ran out of ideas, with the exception of DS9 who used the MU as their safety net.  However, if you want to submit a holodeck malfunction story or artwork, I won't stop you.  
1st Prize: Two requests from me, 500 points and your work in the featured folder.
2nd Prize: One request from me, 400 points and your work in the featured folder.
3rd Prize: 300 points and your work in the featured folder.
1.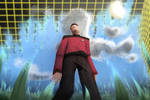 2.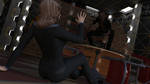 3.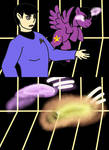 4.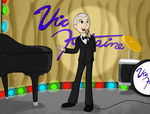 5.  

6.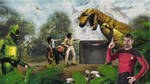 7.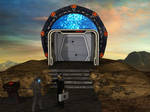 8.  

The sign up period will end on March 9th, or when every slot's filled.  Whatever comes first.