Journal Entry:
Mon Mar 7, 2016, 3:12 PM
Yes, I will draw
detailed bust sketches
like this: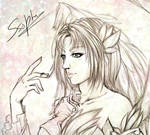 For $5, Paypal fees
INCLUDED!
Instead of $10...
(2000x2000 - 300 DPI)
[STATUS - OPEN]


Why this super promotion? Because 2016 is not being "sweet" with me and lately I'm having many troubles in my life and I need to earn extra money to pay some things...so all kind of money is needed and very important for my pocket...
Even if you can't commission me, just a share is already something grateful for me... I wouldn't ask for support if I wasn't this alerted...
To order you can comment here or through note or through private message in other communities you know me!
- LIMITED OFFER: Will only maintain it till I finally pay these debts...
Note that payment comes before giving you the original! I'll ask for it once I complete it! That's because I have a job too and my time is very limited so I don't want you to wait more than a day to have your request after paying for it. However I promise I'll do my best working on them as fast as I can.
Thank you very much for the support!

SLOTS:

(Requests will be done in order or the first who give me the references. The quickest you are, the first finished work you get)
1 -

[DONE - PAID]
2 -

[2 DONE - 2 PAID]
3 -
[2 DONE - 2 PAID]
4 -

[DONE - PAID]
5 -

[DONE - PAID]
6 -

[DONE - PAID]
7 -

[DONE - PAID]
8 -

[3 DONE - 3 PAID]
9 -

(ON-HOLD - Lacking References)

10 -

[DONE - PAID]

11 -

[DONE - PAID]
12 -

[DONE - PAID]

13 -

[DONE - PAID]
14 -

[DONE - PAID]
Listening to: "Centuries" by Fall Out Boy
Reading: Aria Rozete/Innocentia Fictions
Watching: Naruto Shippuden, DB Super & Uragiri
Drinking: Orchard Fruits Water