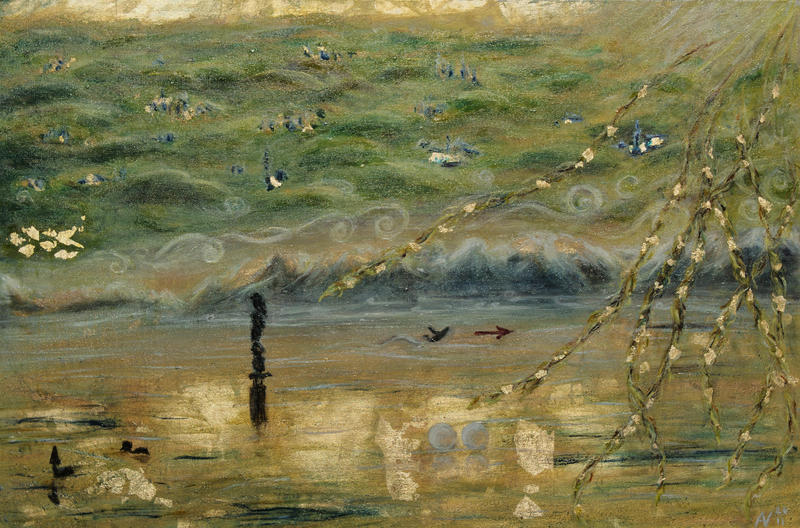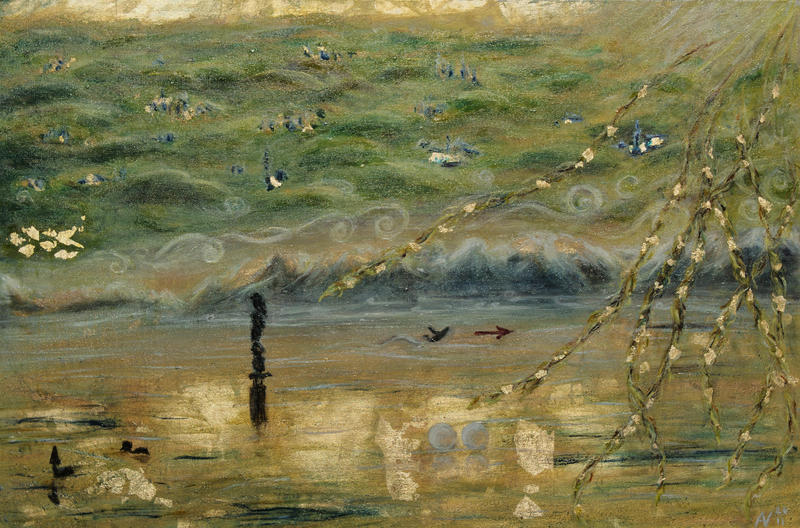 Watch
Ok, try this again - slightly better photo, I hope! Hard to make this look nice and crisp next to the digital artwork. Maybe that's why everyone is going digital, doh!

= I guess this is more a painting for owning and hanging on the wall. If anyone is so inclined....
First oil painting I've finished since I did the Fantastic Journeys exhibition last year. As the title implies, it has something to do with music. Part of it came to me in a dream (doesn't happen very often, but when it does, I think there is a moral obligation to get off one's arse and paint it), and it has to do with a place, and it has to do with a person, but other than that, I really have no clue.
I don't know if it's any good, either - you tell me. One thing I do know, it came out of my own head, rather than using other people's ideas and images as crutches, as I have usually done so far. And the music connection is perhaps something I should explore more.
It also ties in with the Dylan thing - though I started this painting many months ago, long before I got onto this trip, it seemed to me that Dylan's work was the right thing to listen to while finishing this.
Oil and gold leaf on canvas.
Whatever.


oh such a really soothing painting to view X3
Reply
Reply

I realy love the golden character of the water and you feel the mouvement of water and wind! The green-gold-blue is a beautiful combination. The red arrow and the little figurs are like a riddle you want to solve... You should go on, let music and water flow and make more paintings!
Reply

Well, the arrow is not a mystery, it's a quote from a painting by Paul Klee.

Reply

Hello! I am very happy I just ordered a CD from NZ...so I have to be pacient - I was visiting your website and I enjoyed the beautiful photographs and scetches - ecspellialy the different harps! Nice greetings imo
Reply

Oh that was you! Just saw that I had an order - thanks, & glad you enjoyed the website! I'll put the CD in the mail for you tomorrow.

Have you seen my newsletter?
[link]
-- I'd be happy to put you on the list!

(usually they aren't quite as long and involved as this one turned out to be.... )
cheers, Asni
Reply

yes it was me and I really enjoyed your website - the newsletter I will read later. Quite a busy time right now... cheers imo

Reply

My interpretation of this lovely painting is a flow of land, water, and wind.
Reply

very nice. lovely rythym and color
Reply