Hello everyone,
first of all, we want to welcome every new member!
We're glad, that you found this little group and we hope, you'll enjoy to be part of it!

We decided to write a journal with our submission guidelines, so everyone can read up what we'll accept as submission and what not. You'll also notice, while reading it, that artworks/ specific types of artworks, we accepted in the past, won't be accepted anymore in the future. The reason why is easy to explain: Some of the artworks didn't have much to do with our group theme. Night sky + stars & Co. were only a simple background element. But stars, night sky (only with stars), galaxy, planets/moons and constellations are the themes of our group, so we would like to see, as of now, that they play a greater role in the coming submissions.
So if you like to submit paintings, drawings, photography or artisan crafts in the future, then make sure to give the themes of our group more space in your artworks.
Here are some examples, to make it easier for you to visualize it:
(You'll also find the precise rules at the bottom of this journal)

Your photography/ traditional or digital painting/ drawing should show at least
~40-50%
night sky, planets/moons or the galaxy. Constellations (and Artisan Crafts) are the exception, but the constellation itself should be seen on it. (No fantasy/unreal constellations, only real existing constellations!)
Further acceptable examples: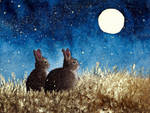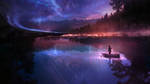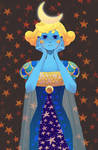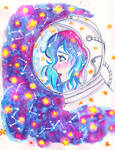 Won't be accepted:

Stars/ Planets/Constealltions just as decorative elements or personifications without any night sky+stars, planets/moon or real star constellations aren't acceptable!
Rules

Again, this group is dedicated to the night sky+stars, constellations, planets and the galaxy, so the piece you submit must be at least discernable focused on ONE of them, otherwise it will NOT be accepted!

Two submissions per week.

Please submit to the correct folder. Failure to do, will mean we have no choice but to decline your work. (However we inform you in a comment to re-submit it tot he correct one)

Make sure all submissions are completed, no doodles, sketches or WIPs (works in progress). It would be awesome, if they're cropped, too. In either case, please, avoid to take photos of your work at weird angles. Also make sure, that the background don't take more space than the artwork and the photo of your work should be clear, not blurry!

Submitted works will be reviewed and only accepted, if they're in the proper folder, follow the group rules/ submission guidelines and are up to a certain standard.
Please DON'T submit to the Featured Folder, it's only for group intern contest entries/ winners and for highlighting some artists and their works.

Please do not submit anything grossly violent or sexual art. If in doubt, message the admin or Co-Founder.
We always write the artist the reason for declining the artwork. If possible we ask for corrections and for re-submisson of the artwork.

We hope you can understand our decisions and that this journal is also understandable for you.
If you have still questions, write a comment down below! C:
Best wishes,
your 'Stars upon us'- Team!