Best Friend, Sister and Biggest Inspiration
other inspirations

















art status
Commissions: closed
Art Trades: closed
Requests: friends only
Collabs: friends only


coming soon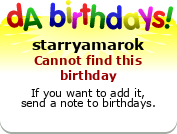 thank you for everything <3
starryamarok.deviantart.com/fa…
characters
starryamarok.deviantart.com/ga…





a stranger's soul is like a dark forest



"All that is gold does not glitter; not all those who wander are lost; the old that is strong does not wither; deep roots are not reached by the frost."
~J.R.R. Tolkien
goin out of my mind, wanna turn into an animal

"Having knowledge but lacking the power to express it clearly is no better than never having any ideas at all."
~Pericles




TO-DO LIST

Couple YCH for
Galaxy-Feathers