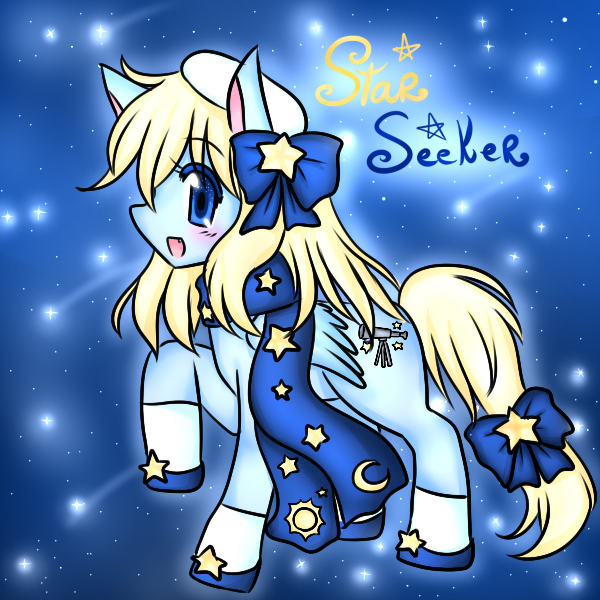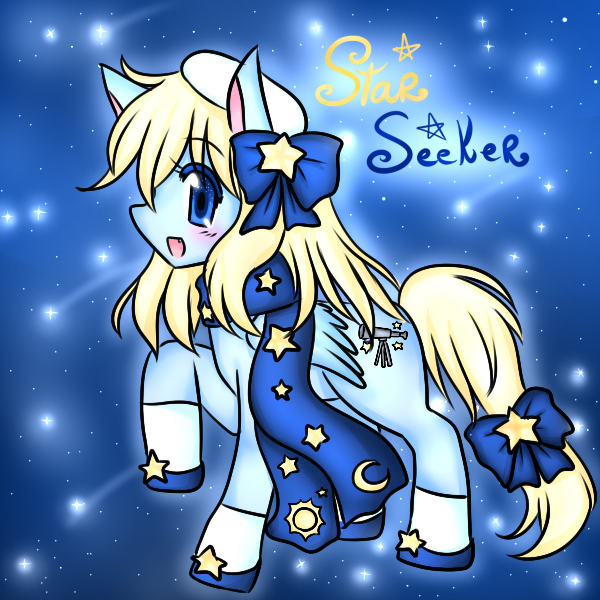 Watch
Finally! This is my very first pony character. Her name is Star Seeker! I love her design so much! And very happy with it~

Here is some information on her!

Name: Star Seeker

Gender: Female

Age: Mare

Cutie Mark: Telescope with 3 stars.

Race: Pegasus

Coat Color: Light Blue

Mane Color: Blonde

Cutie Mark: Telescope with 3 Stars

Special Ability:Can read ponies futures or predict things using the stars, Recognizes every constellation, Has a very intelligent mind for Astrophysics and Constellations.
Personality: Kind, Intelligent, Charismatic, And Determined.

History: Star Seeker lives in the high hills of Ponyvill. Like Fluttershy she is a Pegasus that lives on the ground then in the clouds.She owns a large Observatory for studying the stars and teaching other ponies about them. It is usually open for other ponies to come and vist. She owns the biggest telescope in all of Ponyvill. And it is in the center of her Star Observatory and welcomed for other ponies to use but mostly Star uses it for research.Star Seeker is not so social when it comes to friends and friendship. Because she is use to being alone and researching the stars she is very shy and sometimes may come off as a too serious person. Star is though a good friend of Twight Sparkle and Applejack. Applejack's Apple Farm is near Star Seeker's observatory that is in the hills which often looks over the farm.

Relationships: Twlight Sparkle (Friend), Applejack (Friend), AppleBloom, Big Mac, Granny Smith ( All Friends ), Sea Star (Childhood Friend)

aww this was your oc? : 3 I love her hat, shes sooo cuuute! I still have to think up one for me ._. all I know is I want pink in there somewhere!
Reply

awwww C: I love the design!
Reply

very cute. i like her design.
Reply

Huuaaaaa Chu! This is ADORABLE!
Reply

Reply

Both of my ponies would probably like her

they both like the stars
Reply

For a first pony design, this is lovely!
Reply