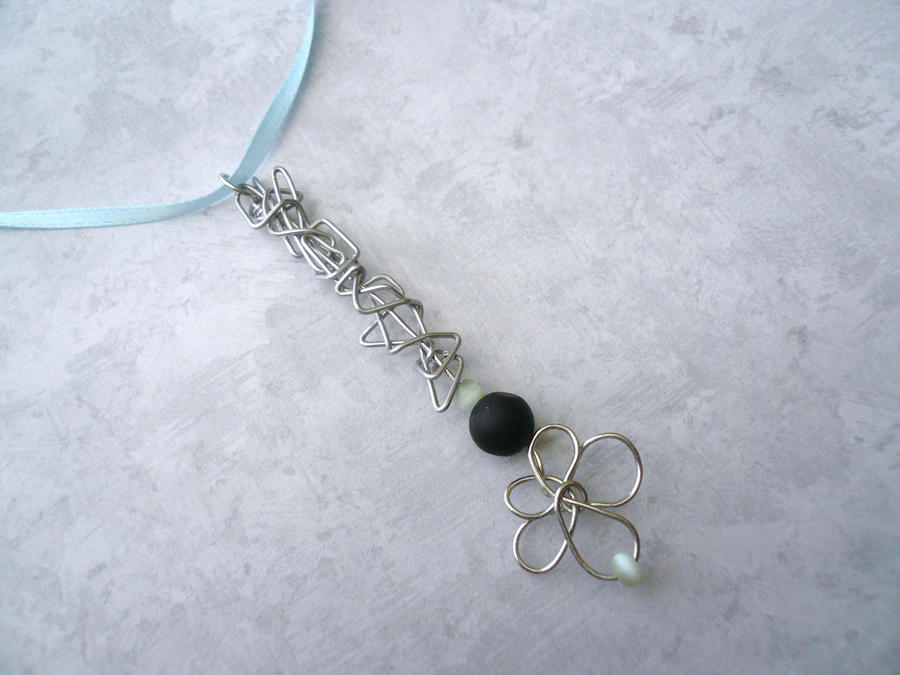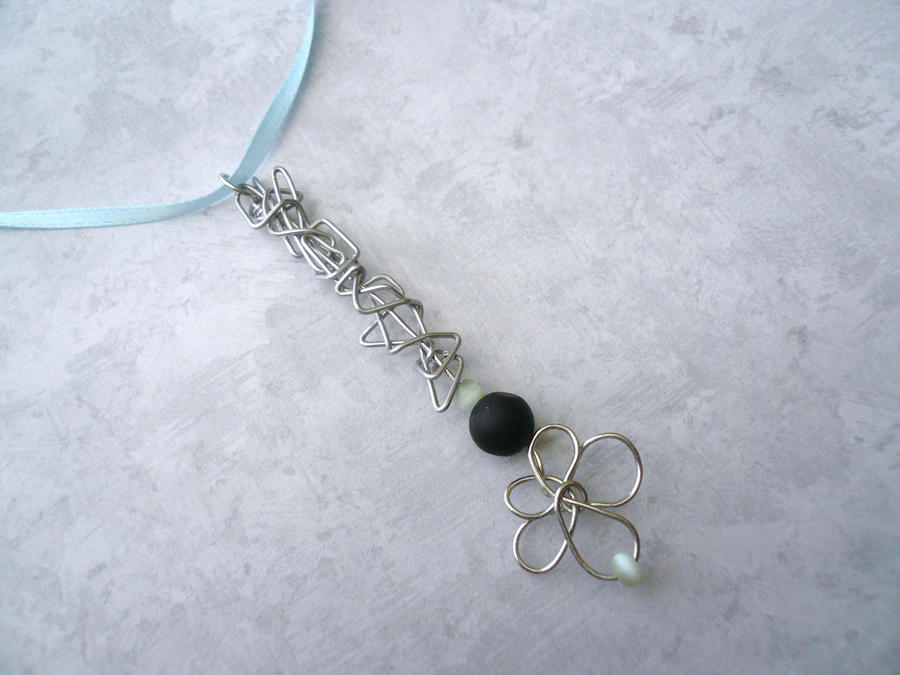 A somber stone surrounded by shimmering glass beads in a design that suggests, in two separate parts, a crystallized snowflake. The purpose of the rounded snowflake at the bottom is meant to artistically contrast the narrow, angular top of the pendant. Which is a great cover story to use when everyone wants to know where all those bubbles just came from!
$20
Starlit Sorceress Jewelry
Check out my website for details:
[link]
+Watch me to see my new designs as they come out
[link]
Silvered copper wire, aluminum wire, marble bead, and cats-eye glass beads. A little over three inches long.
Instructions:
1. Wear around your neck on the (long) ribbon.
2. Dip into a container of bubble solution.
3. Conceal the container.
4. Assume an innocuous posture.
4. Blow bubbles.
5. Immediately drop the necklace.
6. Who you? You couldn't
possibly
have blown those bubbles!
Easy bubble solution recipie
--------------------------
3/4 cup water
1/4 cup strong dishsoap
1 tsp sugar
More stealth bubble wands:
[link]
[link]

I love this idea! The only thing that could give you away is your dripping necklace haha. I love the way you designed/crafted the metal....handle? The long twisty metal part lol. It's really awesome.

Reply

Its one weakness! *raises fist* Masters of the art will surely find some pretense to get the necklace wet beforehand. Otherwise, just focus on pranking your unobservant friends.
I like the handle too

I love the way aluminum wire makes that angular crystal effect. (Here's a different approach to the style:
[link]
)
Reply

This pretty cool how long did this take to make?
Reply

Let's see...I came up with the idea for stealth bubble wands three or four weeks ago when I heard about my sister's stealth-bubble-blowing adventures. (I'd been designing regular bubble wands for several months before that.)
I drew the first sketches for this one about two weeks ago when I was making the other ones
[link]
[link]
. Last week I made the first version, improving on the sketch quite a bit. It was a little too small, though, so I made a better one the next day.
The only problem then, was that I liked it too much to sell! That's when I ended up making this final version, which turned out to be the sleekest, most polished-looking version yet.
Reply

Hahaha. Selling the things you work hard on and love is hard. It's almost like selling a child...almost.

Reply

Very cute! I also love your description. I would love to try that out.
Reply

It's definitely on my list of YouTube videos to make.

*Heroine wearing necklace with several different outfits*
*Music suddenly goes Mission Impossible-ish*
*Heroine goes into shifty spy mode, pulls out bubble solution*
*Heroine selects target*
*Bubble'd!*
Reply