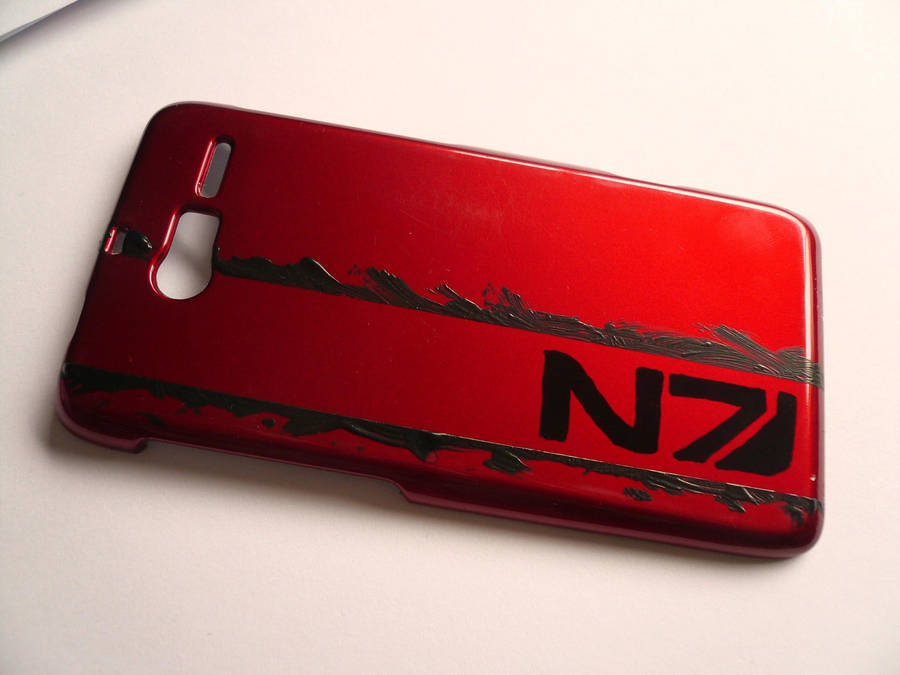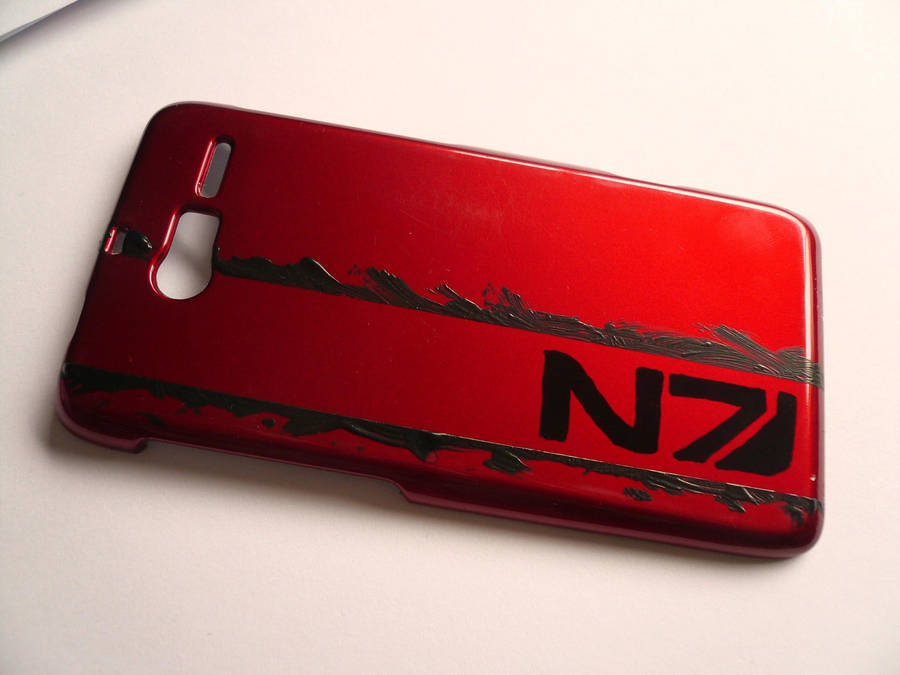 (I'm back. You'll never guess what game I've been playing!

I haven't given up on jewelry, though. I have a lot of new photos ready to be posted.)
After seven months of no inspiration of how to decorate my cell phone protector, I finally found something worthy.
============
Tutorial
============
You will need:
-Tape (desired width of stripe)
-Paint (I used acrylic)
-Heavy, dark pen or sharpie. (I used a Uni*ball Signo)
-Sealant (I used glossy mod podge, but it was after I took the picture)
1. Place the tape where you want the stripe to go.
2. Try to paint two bold, straight stripes on either side of the tape.
3. Fail miserably at painting straight edges freehand.
4. Decide that splotchy, abstract stripes look better anyway, and go crazy.
5. Slowly peel the tape off before the paint dries.
6. Draw the N7 logo (or anything really) using the pen
7. Cover with your favorite sealant.
If you make one, I'd love to see it.
I'd also love to chat about Mass Effect in the comments if you're a fan too.

Reply

MASS EFFECT IS THE VERY BEST THING EVER
AND THIS IS AWESOME
Who's your favourite NPC? What's your favourite species?
(who did you romance??)
Reply

YES IT IS!!
I'll be posting three more Mass Effect crafts as soon as I get good photos of them.
My playthrough:
Eve Shepard
, soldier paragon with the occasional bout of righteous anger.
Paramour: Garrus
BFF: Tali
Other closest friends: Mordin, Dr. Chakwas, Joker, EDI, Samantha Traynor, Wrex
Respected acquaintances:
Bakara,
Capt. Kirrahe, Kal'Reegar
Proudest achievement (spoiler free): The best possible result on Rannoch.
Ending choice (spoiler free): Blue
Craziest thing I did: Gave up all biotics for most of the last two games just so I could have Garrus and Tali in my party as much as possible
What's your Shepard like?
Reply


I play as Eilir Shepard, a Sentinel Earthborn/War Hero on the paragon sie of paragade. I romanced Garrus too! Gar-bear

Mordin is awesome and badass and hilarious and just perfect. Joker is aweosme too, Wrex is badass and I like Chakwas. Dr. Michel on the Normandy?! Heck no!
Kirrahe is awesome. I managed to get ME2, then ME3 and now finally ME1, in which I've come not very far at all, I'm afraid. Just recruited Liara and ran a metric ton of errands on the Citadel. I have, however, watched playhroughs, so I know what to do.
Rannoch, yes. Beautiful place and the Geth server mission is by far the best one in all three games.
I choose green. Eternal space police isn't my kind of thing.
I backed into a geth Colossus several times, then drove away until I could hit it with my cannon. I love running over enemies and climbing vertical mountains with the Mako. And I used the Carnifex as a sniper in ME2. It was, and still is, my pistol of choice. However in ME3 I ended up with a Sniper rifle and a Shotgun. Tore right through everything (on Casual but shhh) without problem.
In ME2 my team of choice was Garrus and Mordin. In ME3 I'd bring Garrus and Liara. Not sure about ME1 yet, though.
Reply