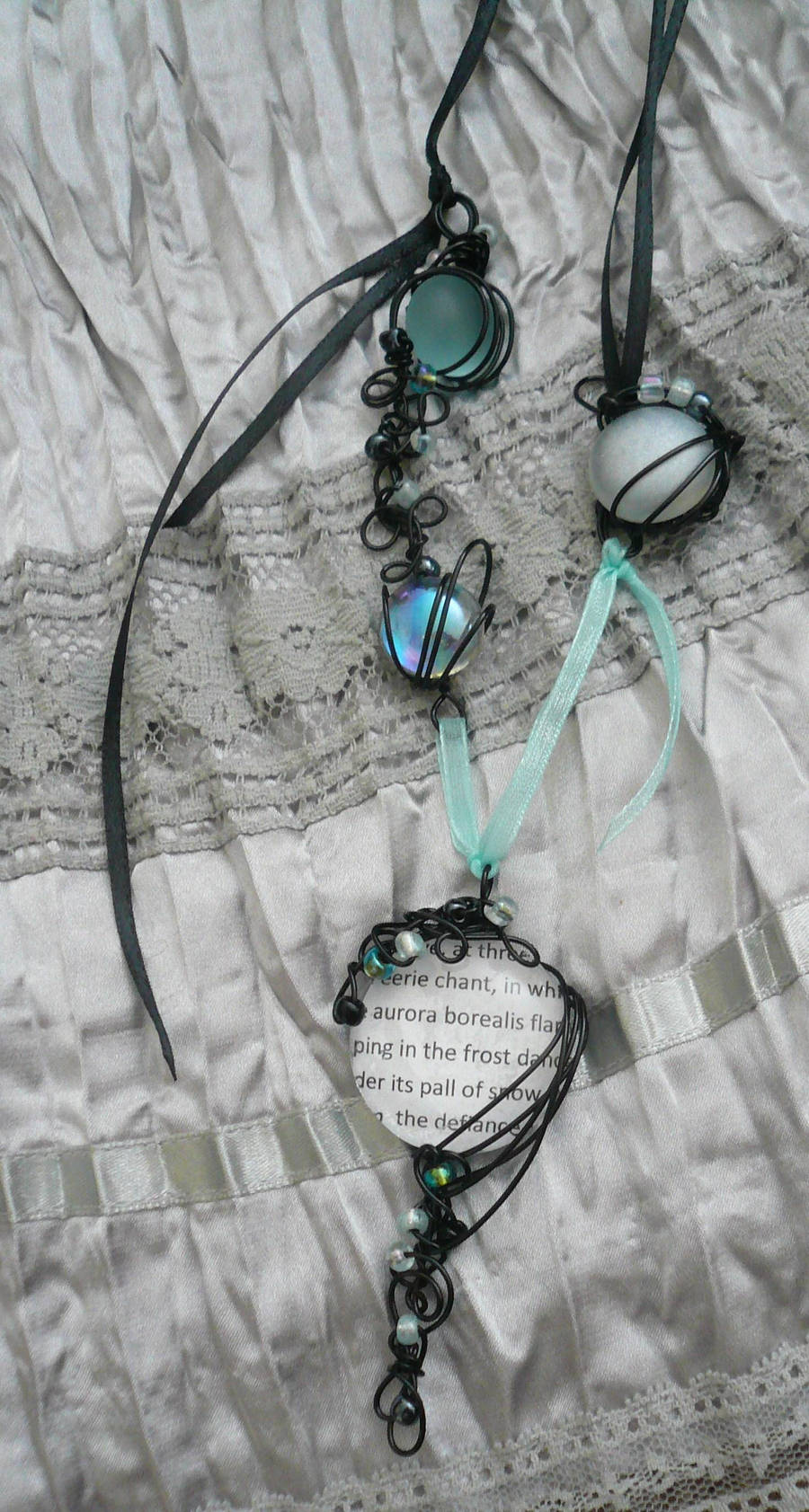 "With the aurora borealis flaming coldly overhead, or the stars leaping in the frost dance, and the land numb and frozen under its pall of snow, this song of the huskies might have been the defiance of life..."
--Call of the Wild
(No books were harmed in the making of this necklace.)
$80
Starlit Sorceress Jewelry
Check out my website for details:
[link]
+Watch me to see my new designs as they come out
[link]
Enameled copper and aluminum wire, glass seed beads, glass gem/mod podge/printer paper, frosted glass gems, iridescent glass gem, and two different kinds of ribbon.
Pendant: 3 inches, left piece: 3.5 inches, right piece: 1 inch, Ribbons: 26 inches around (Length can be adjusting using the knot on the left side.)
More photos on my tumblr:
[link]
I'd be happy to custom design a necklace for your favorite public domain passage or quote.
Share your favorites in the comments.
Edit: Featured here
[link]
and here
[link]

Reply

This is really pretty! I like the metal work the best

Reply

Thanks

I sketched the design for the bottom pendant, but left the others to whatever I was feeling at the time.
Reply

I love this necklace! I like particularly the iridescence of the blue piece, it really draws you in.
Reply

I had more than three color ideas for the smaller glass gems, but I think I picked the perfect ones.

I recently put my stash of glass gems in an upstairs closet except for a handful of the best ones from each color. When I selected that specific iridescent gem, the blue really stood out, and I knew it was destined for great things.
Reply

Reply