Description
Update 10/25/2019: This bank has been discontinued from the Starloid series

The official HQ bank is still available for purchase until May 20th 2020


Please Note: This is not the official HQ voicebank! It is a monopitch of her main voicebank OTO'd by the auto OTOer from Moresampler
Welcome to the Demo! Well not really much of a demo, kinda like more of a permanent beta test... This voicebank is for Demoing purposes ONLY and is not the final voicebank. Similar to her free CV voicebank. Though this voicebank is rendered from her Official HQ voicebank.
Since this is a demo the OTO is not the official OTO, it was generated by Moresampler. If you wish to edit the OTO you may, if you wish for your edit of the OTO to be the OTO for the demo, feel free to send me your OTO and i'll replace the file and add in a credit for your edit of the OTO. (i'm guessing this is very unlikely to happen though lol)
I will list everything in the readme below, this includes rules of the voicebank, character information and other things
File Size: 212MB (76.2MB0 ZIPPED)
Format: VCV
Pitch: F4 (Monopitch)
Character's Homepage: starloids.weebly.com/trina-wyl…
Voice Preview 1: soundcloud.com/trinawylington/…
Voice Preview 2: youtu.be/I6txJOohnVI
Mini Profile: fav.me/da8rhma
Download her MMD Model: fav.me/dahu9g6
(there are some spelling errors in the character readme that will be fixed for the official but i already uploaded the demo version so lol)
☆Name: Trina Wylington
☆Age: 20
☆Birthday: May 20th
☆Weight: 140 lbs
☆Height: 5'6"
☆Likes: Cotton Candy, small animals (Hamsters, Rabbits, Chinchillas) baby animals (Kittens and Puppies) her older sister Lola, her tail being brushed accordingly, being an animal rights supporter at her University, History and Government Classes, taking part in political debates, watching Dr.Oz and Judge Judy, Disney movies and other children's films, and Anything with Adam Sandler. Trina is a HUGE How To Train Your Dragon Fan.
☆Dislikes: People who misunderstand her meanings, people who touch her tail without her permission, people who pull her ears and tail, People who call her older sister fugly (Cause Lola is the most beautiful person to her) The color Red (On herself) People who act as if they understand politics but really know nothing but what the news tells them.
☆Rules☆
1.The 18+ Ban has been Semi-Lifted as of this voicebank. You are still not allowed to use her for Porn or expose her genitalia or nipples though. (See Rule 3)
2. Songs that make Trina seem racist or sexist is not allowed (Homophobic as well)
3. You can draw art, nudity is allowed as long as her nipples and vaginal area are covered (Keep it PG 13) ★Easy Loop! You can use her large tail to cover her lower half very easily and her side bangs to cover her nipples!★
4. Killing Dustin is allowed! (HA!)
5. Using other characters as love interest IS ALLOWED!
6. Pairing Trina with vocaloids IS ALLOWED!
7. Color scheme changing is NOT allowed.... (i've had someone do this with another of my characters... Trina's colors for her hair, ears, eyes and tail can't change just because you don't like it. It's her appearance and i don't want it to be altered)
8. Songs about Yandere, Suicide and murder IS ALLOWED (Trina is a werepup, the werewolf that comes from domestic dog blood lines, and has the natural instinct to kill and of course going through changes in her life can make her feel like killing herself so they are accepted)
☆Starloid Website☆
starloids.weebly.com/
☆MMD Models Website☆
starsneverstopmmd.weebly.com
Official Lipsync Dolls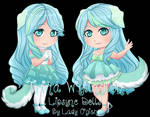 This download is updated from her old demo download from last year