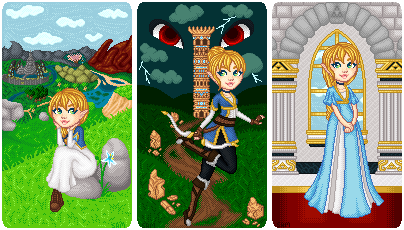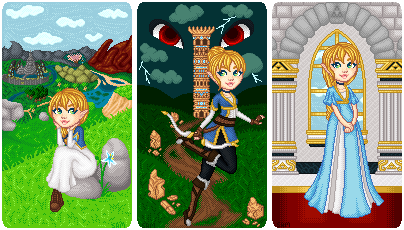 Watch
Update - Won Second Place! Also got Judge's Choice and Best of Round One

FINALLY! After a full week of hard work, staying up until 5am every morning, I have poured my heart and soul into this! This is my entry to the Champions of Hyrule contest being held by
theRainbowOverlord
For it, I chose to use my BotW ZeLink Daughter, Zelda Sophitia Hyrule, who goes by the name Sophie. I did check before hand that fan babies were alright (and also that I could use a sitting pose if the others were standing and the full height requirement)
The hardest thing next to the backgrounds themselves was the fact that I didn't have a third outfit design for her so I eventually came up with a nice adventurer's outfit based on both Link and Zelda's designs.
Round 1: The Age of Peace
Following Ganon's fall, Hyrule was ushered into a new Age of Prosperity. The land flourished and soon the people had recovered from the century of decline. It wasn't long before a rush of new children were seen, even from the Queen and her husband, who had a daughter and then a son. Sophie is very much the opposite of her mother. Where Zelda was not allowd to flourish, Sophie is encouraged to follow her heart wherever it leads. She freely travels the lands of Hyrule, often visiting Kakariko Village, where she is friends with Impa's great-granddaughter and namesake, Impa II.
Round 2: The Unknown Tower
Despite the Peace, some of Ganon's malice still lingered in this world and slowly it festered until one day, a strange new tower erupted from the Thyphlo Ruins. Though it was built by the ancients as a test for the Chosen Hero, it had been warped by a dark power into something else. Sensing the evil within, Sophie ventured forth armed with her bow and her father's Sheikah Slate. However, she quickly found herself trapped inside this twisted labyrinth, and prey to the resurrected Wind Sorcerer of long forgotten legends.
Round 3: The Wild Princess
With the help of her friends and the awakening of her own power, Sophie managed to seal away the reawakened evil and restore peace to her home once again. Here she stands in her royal gown in the restored halls of Hyrule Castle, enjoying the respite from her recent adventures and resting assured that like her mother and father before her, she will be able to protect Hyrule from all that dares to threaten it.
.: Information :.
Time: 1 Week
Base:
Sitting pretty
by
aerieyena
- Edited by me
Sophie (c) Myself



All that time and effort really payed off in this entry. The backgrounds are awesome, especially the first one.
Sophie is adorable! I can't wait to see more of her.

Reply

Thank you! Yeah, the first one took the most time, because it's a painstaking recreation of actual Hyrule, as close as I could get it XD But it was worth it in the end, it's one of my best pieces I feel like <3
Reply

This is very pretty. You did a great job on this.
Reply