Just a quick entry:
Deviantart just started saving some pictures in external clouds, all Google related as I see that. Not all yet it seems, but there were some over the past hrs. And the consequences are pretty unwelcome.
Regarding downloading pictures via the "Download" button.:
1. The browser may want to save the file as .htm, which is the complete wrong filetype
2. The usual file name TITLE_by_ARTIST_BLAH.jpg gets replaced with a complete random filename, basically garbage.htm/.jpg. And this is something I can't support on a platform like this which should make sure that credit is given this way and people also know where the pic comes from.
As an example: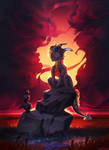 by

1. Opening via clicking "Download" in a popup -> using my mouse gesture addon to save the pic
2. Opening vis clicking "Download" in a popup, saving picture via right click -> "Save image as..."
3. Open "Download" in a new tab, using my mouse gesture addon to save ("Save image as..." results in garbage.jpg)
1.
; 2.
; 3.
Regading pictures on the normal page:
They also start to end up in clouds, but at least seem to keep their filenames sometimes. Not always though, found at least one where this wasn't the case.
Seriously, this is really bad.
Also opening only the picture in the same tab you browse around results in malfunctioning of the tab. Clicking the back/forth buttons results only in address change, the tab doesn't change. At least in both browsers I use, which are Waterfox and Chrome.