The party is on full bloom and the guest of honour amused and entertained at the rare opportunity of seeing the host in noble attire. Missions accomplished all around!
Commission work for pinkythepink and goes together with a previous commission featuring Aerie and Mark.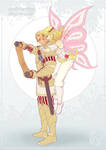 Aerie Evergreen and Mark Murcry both belong to

PinkythePink.


Image details
Image size
707x1000px 784.13 KB