To continue the series of my Animated Harem, here we have Elsa holding a positive pregnancy test and blushing with the good news.

Drawn by JulyViolet and colored by me.

Coloring Elsa's dress was once again the easier part, coloring the background was the harder part becuase I wanted it to be as screen accurate to the movies as possible. So I used a set of patterns for the wallpaper thanks to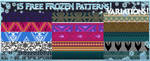 and I also used a set of brushes from the same artist for the snowflakes: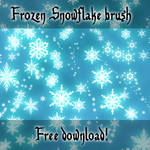 I did something similar to this when it came to the artist Blushmallet but with this one I wanted to give a little more detail to it. And after some tricks to give a sense of depth beyond the windows, I knew I was done.

My thanks to JulyViolet for the work they did on the line art and thanks to Sakuyamon for the brushes and patterns they made that helped in the creation of this.

(C) Elsa - Frozen and Frozen 2 - Disney
Note: All characters depicted here are 18 years of age or older.

Image size
566x800px 745.53 KB

Thank you, but again you should see the rest of my animated harem idea that I have over at my blogspot page.