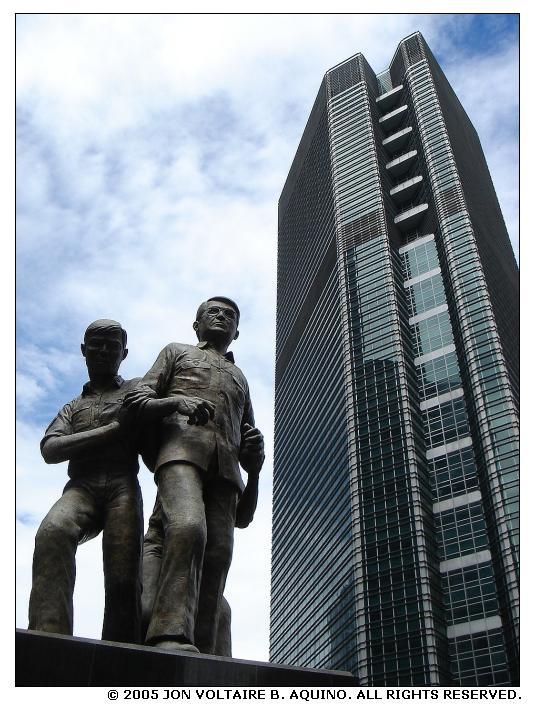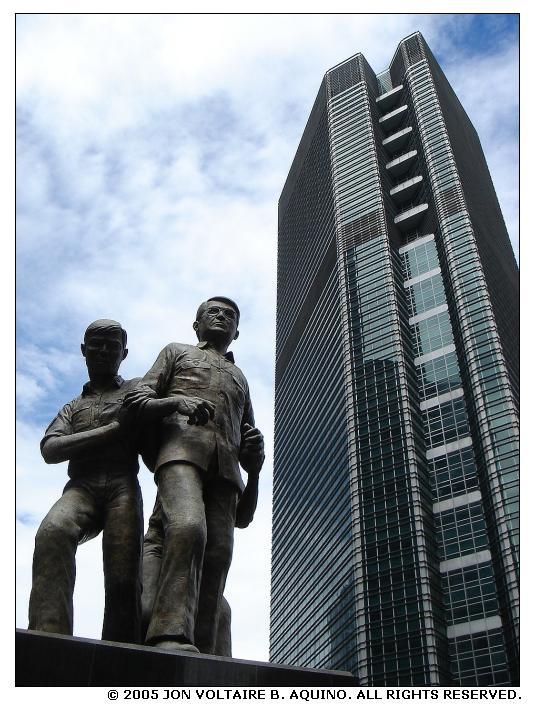 Watch
Taken on July 6, 2005, the martyrdom of Sen. Benigno "Ninoy" Aquino, Jr. will always be remembered by the Filipinos for years to come.
Reading his annihilation in the eyes of his military escorts, he yet followed them to certain death, answering his own question: "Is the Filipino worth dying for?". By showing how a man can die for his people, he inspired them to stand up and fight for their freedom.
His greatness is immortalized through this monument near the Philippine Stock Exchange building.

I am truly greatful that we carry the same family name.


Hi, Can our company also use this image for our annual meeting that will be held here in Manila? We have delegates from around the world coming here in the next few months and we are preparing a template for PPTs that shows a collage of photos about Manila. We intend to use this as the middle photo and then surrounded by other landmarks. will you have an issue if there is no credit for the picture (as I am afraid there will be no opportunity to place it somewhere in the title slide of the PPT). So we are hoping that asking permission from you would be acceptable? Many thanks.

Reply

Good day! May I ask permission to use this excellent photo you took as a visual aid for a short Ninoy Aquino school report for my Kasaysayan 1 class in UP? I'll give you proper credit for the picture (I won't edit the picture and also I will put the URL of your DA page).

Reply

Sure Ms. Isay, not a problem. Once again, I'm glad that this picture will be put to good use.

Take care and God bless. Long live Ninoy!

Reply

Dear Mr. Aquino,
I took the liberty of pasting your Ninoy Aquino-PSE photo in my son's homeschool blog. I wanted to take photos of the building and the monument myself but didn't want to get mistaken for a terrorist (I tried to take a photo of the RCBC tower once and was politely but firmly shooed off the vicinity by the security...) and so was happy and relieved to see your beautiful, well-angled photo at the PSE Wiki. Here's the link to that particular entry in my son's blog:
[link]
I left your photo as is (credits included) and also linked your DeviantArt page at the bottom of the blog entry. Thanks so much and may your tribe increase.
Sincerely,
Trina
Reply

Dear Ms. Trina,
I am honored that my photograph is being used for a good purpose. The pleasure's on me, Ms. Trina. It looks good on your son's homeschool blog, complementing the nice writeup that you did.
Glad to be of service Ms. Trina, just like what Ninoy Aquino did for our country. Take care and God bless!

Reply

Yeah, it's also being used at the Philippine Stock Exchange page. I'm humbled.

Reply

astig ka bro

keep it up!
Reply

Thanks Max! I'm actually planning to go to Ayala Avenue to cover the 23rd Anniversary of Ninoy Aquino's martyrdom (where ceremonies will be held near his monument).
Hope to meet Tita Cory up-close and have this particular photo autographed! Wish me good luck!

Reply


need I say more?
beautiful angle, nice contrasts... great capture, p're...

Reply

coolness.

all my photos of the stock exchange building and the ninoy aquino monument tend to suck. hehe. and i tend to forget to bring my cam when i get out of the office at dawn. that's usually the time when the monument looks best lit.
Reply

Oh I see.

I went to Makati a few days ago and it looks to me that the monument is having repairs or something (binakuran ang monument ng plywood).
Reply

Wow this is an awesome pic - a great angle and that's a really cool building


Reply