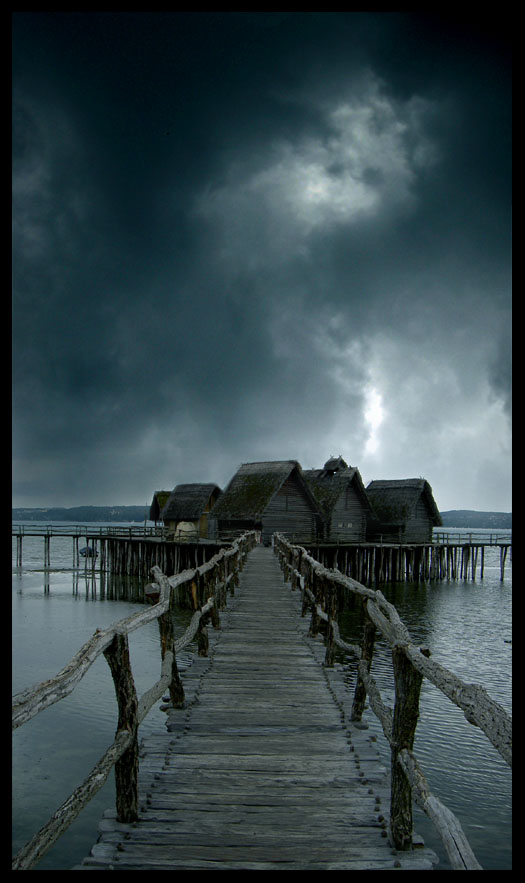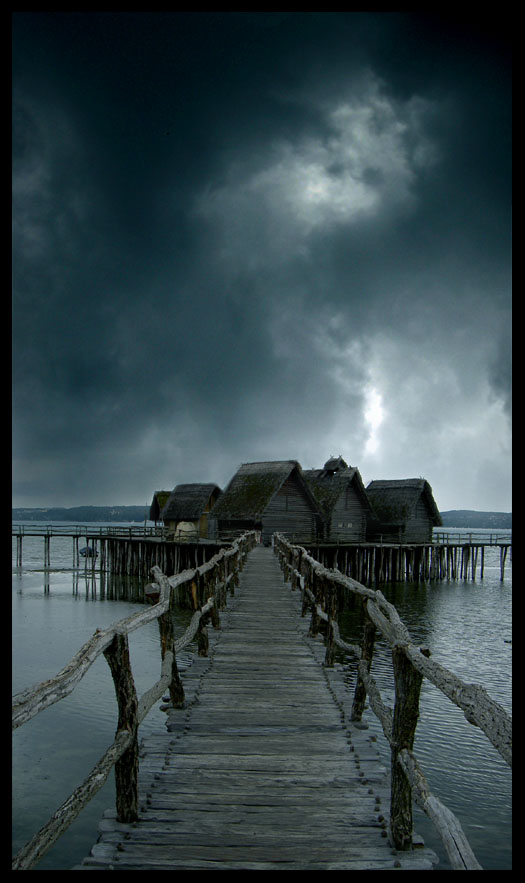 This photo is taken on the Lake Constance.

It is located in Unterhuldingen.
Daily Deviation
Given 2005-05-02
The storm is still
far away
, giving us plenty of time to take in its grandeur and glory, to ponder its power and strength as it slowly rumbles toward us. Exquisitely captured by
Tobias Zeising
's masterful eye. If you are not familiar with his work, his entire gallery is a must see. (
Featured by

lolly
)
This inspires me to tears. So powerful. It's full of thought-inspiring contradictions Normally you go on a walkway to get someplace better, but the destination looks altogether forbidding and grim. The storm looks evil, but is sliced with a stream of light. The walkway looks old, but also solid. The ocean is calm on one side, agitated on the other. You really could not do this any better in any way possible. I love the rickety feeling of the village on its stilts, and the strong feeling inspired by the presence of so many of them. It seems almost like a person: doughty, unwilling to give up, having learned from experience that lots of support is needed.
The Artist thought this was FAIR
13 out of 13 deviants thought this was fair.
this reminds me of the Yin Yang concept, like the waters, calm on one side, agitate on the other side, the clouds are dark, and yet there's light coming in, seems like the lights are pushing in, prevent itself from dominated. For me, this picture is somehow more to the balance of life and the struggle to survive i suppose. and, the shooting angle's totally perfect!! shutter speed works fine too, focusing was great, totally captured the whole thing, including the houses and the wavy waters at the back. Generally, this picture is epic! it's pure it's inspiring, it really made us think.

PS: i thought the rate is for my critique, so i deleted previous critique, sorry.
The Artist thought this was FAIR
3 out of 3 deviants thought this was fair.