Michelangelo di Lodovico Buonarroti Simoni.
Best known as Michelangelo...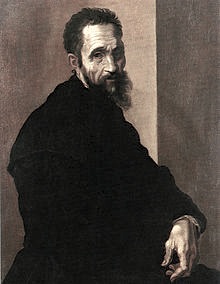 Introduction
Michelangelo was an italian painter, sculptor, architect, poet, and engineer. He was born in 1475 in Caprese, Italy (today known as Caprese Michelangelo).
As a young boy, Michalengelo started studying grammar but then he showed no interest in schooling. He preferred copying paintings from churches and seeking company of painters, He started improving his skills at a very early age
. When Michelangelo was 13 he was set to be an artist. He became a pupil of the great sculptor, Donatello.
Michelangelo was considered as the greatest living artist in his lifetime. He
received commissions from some of the most wealthy and powerful men of his day, including popes and others affiliated with the Catholic Church.
Michelangelo lived to the age of 89, and died in 1564.
The Italian Renaissance was a period of a great cultural change and achievement that began in the 14th century and lasted until the 16th century.
Michelangelo was one of the most powerful Renaissance leaders alongside Leonardo Da Vinci, Botticelli, Caravaggio, Ghiberti, and Raphael.


Artworks
Michelangelo is considered one of the greatest painters of all time. Michelangelo's greatest painting achievement is the famous Sistine Chapel walls. Especially the "The Last Judgement", the frontal walls of the church, and "The Creation of Adam" At the top ceiling.
Michelangelo's paintings style was mostly characterised by the excessive presence of male nudes, body muscles, drapery and architectural perspectives (With the help of Ghiberti after he discovered the principles of perspective).


The creation of Adam, a small part of the Sistine Chapel ceiling.

Click here to see the
Sistine Chapel in 3D!


Michelangelo's earliest sculpture was made in the Medici garden near the church of San Lorenzo; his Bacchus and Sleeping Cupid, both show the results of careful observation of the classical sculptures located in the garden. Throughout Michelangelo's sculpted work one finds both a sensitivity to mass and a command of unmanageable chunks of marble. His famous Pietà sculpture places the body of Jesus in the lap of the Virgin Mother; the artist's force and majestic style are balanced by the sadness and humility in Mary's gaze.

In 1504 he sculpted David, in a very classical style, giving him a perfectly proportioned body and musculature.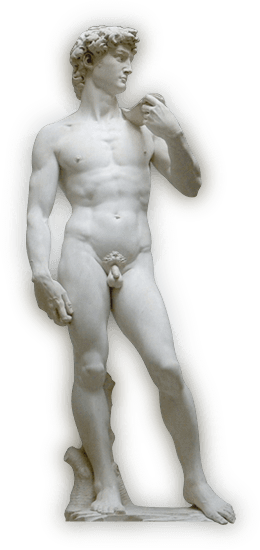 Moses, his last major sculpture. The artist made the statue from a block of marble deemed rigid by earlier sculptors; his final product conveys his own skill for demonstration of mass within stone and a sense of Moses' anguish.





In his architectural works, Michelangelo defied the conventions of his time. His Laurentian Library - 1520, designed for the book storage purposes of Pope Leo X, was memorable for its mixture of mannerist architecture; it demonstrates Michelangelo's free approach to structural form. The Capitoline Square, designed by Michelangelo during the same period, was located on Rome's Capitoline Hill. Its shape, more a rhomboid than a square, was intended to counteract the effects of perspective. At its center was a statue of Marcus Aurelius. From 1540 to 1550 Michelangelo redesigned St. Peter's Basilica in Rome, completing only the dome and four columns for its base before his death.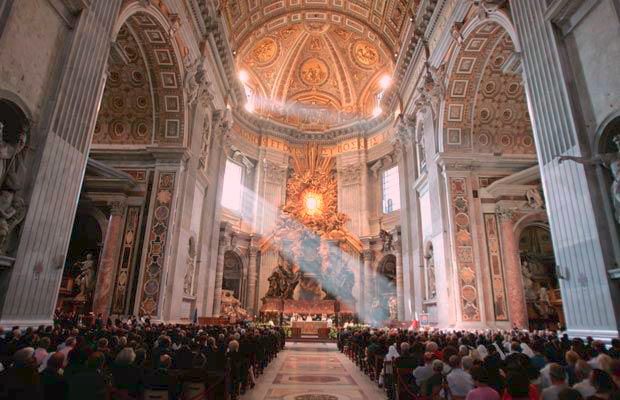 ♔
I feel as lit by fire a cold countenance
That burns me from afar and keeps itself ice-chill;
A strength I feel two shapely arms to fill
Which without motion moves every balance.



Poem by Michelangelo


Features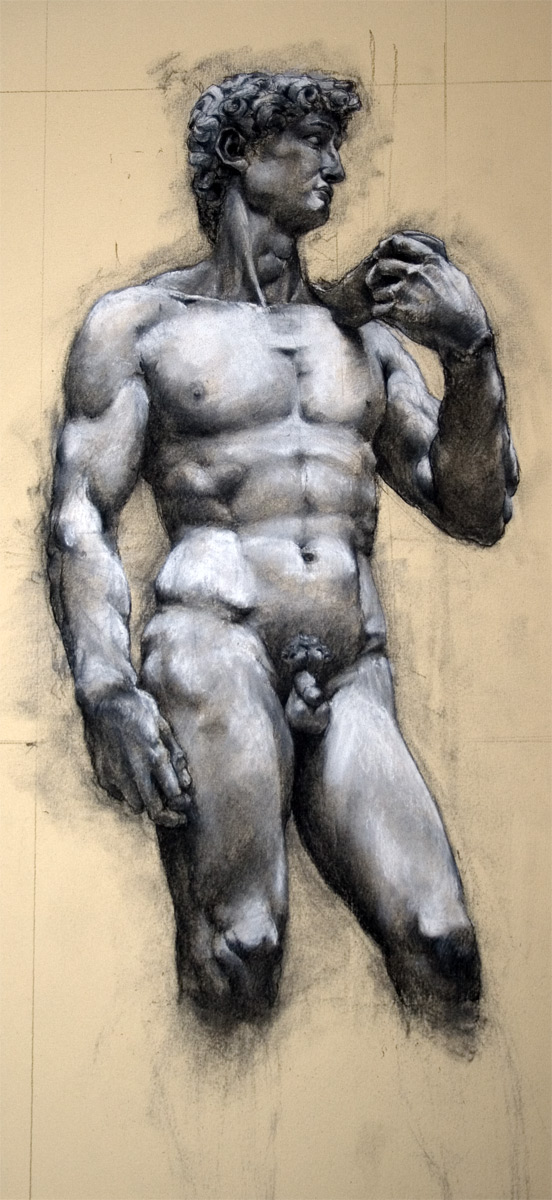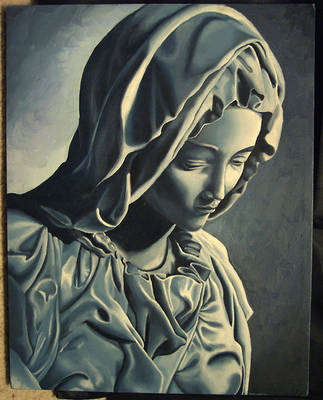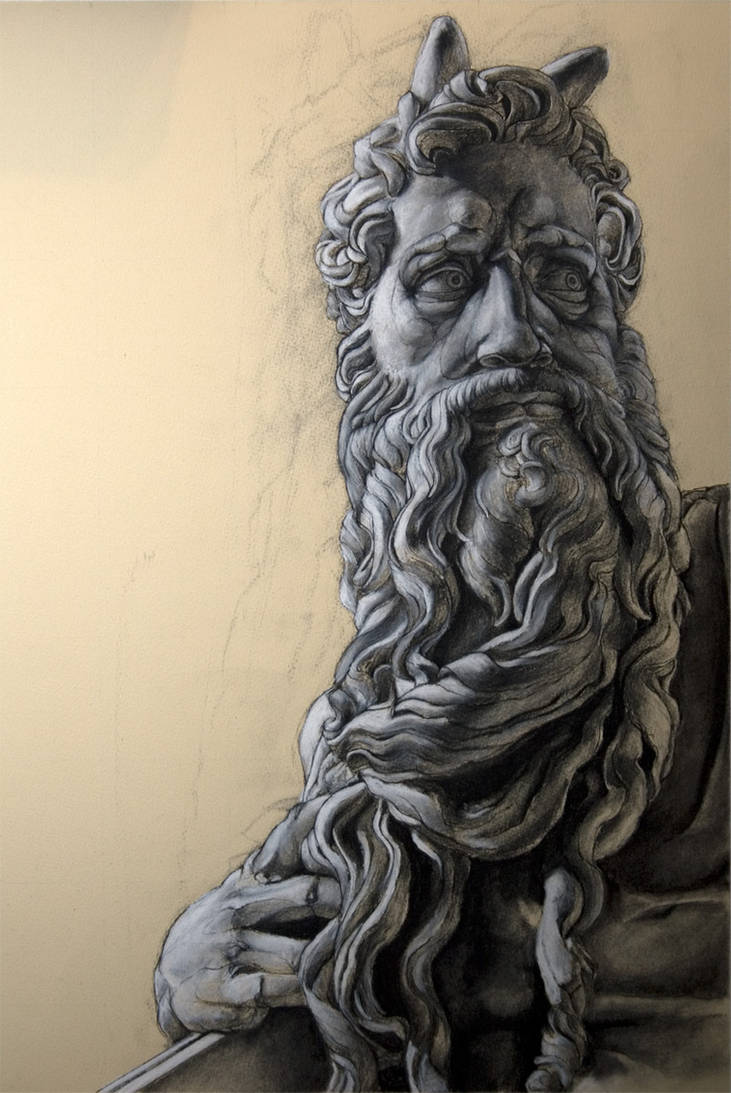 :bigthumb151361677: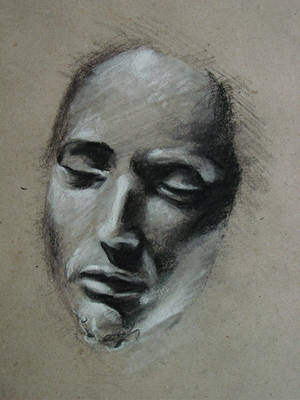 Thanks for reading!