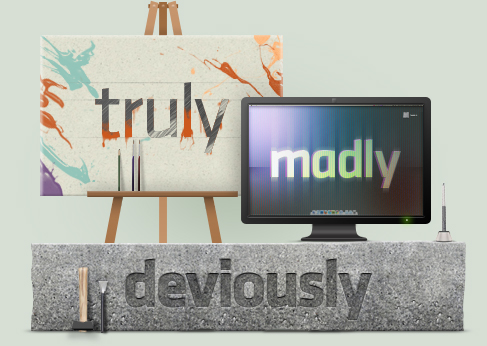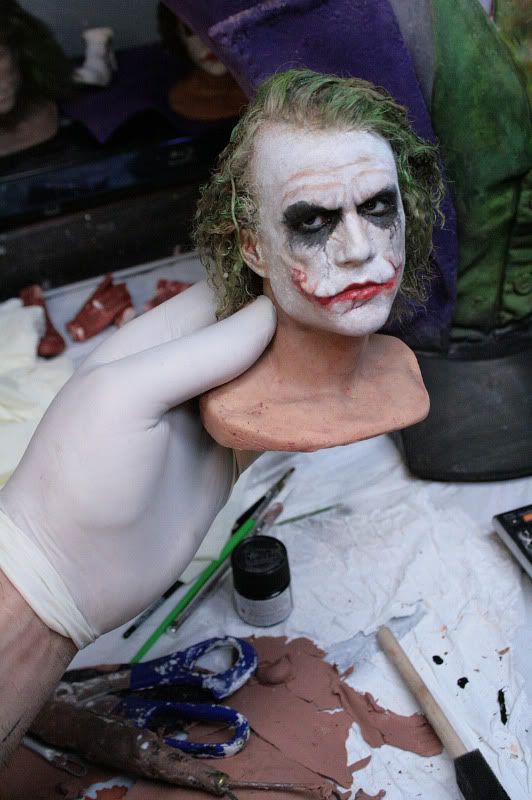 In the world of traditional art there are people who sculpt, and then there are SCULPTORS. Bobby Causey is in the second category! As you view this artist's gallery, you will very quickly realize that you are viewing the work of a master----this is an artist whose creations exemplify the term "jawdropping." The slogan on his website reads, "let me sculpt your imagination"... he does that, and so much more.
– LabyrinthCreations, Sculpture Gallery Moderator
I'll never forget the first time I saw your work-- Heath Ledger as the Joker-- I've never been more astonished by a single work of art. Your work goes well beyond the level of realism most of us associate with sculpture; can you tell me a little about your background and education as a sculptor? What would you say your guiding principle as an artist has been?
First and foremost, thanks for taking the time to do an interview, I really appreciate it!
Well, to be honest, I never had one class on sculpting, just a few high school courses for drawing and basic artist study, never read a book on the subject...
Basically, the only guide I have is the person, or my subject; I know what he or she looks like and I have to not only try to get a great likeness but also
alive
with feeling or thought.
The realism line that has been drawn in the sand is the line I have to get as close to as possible.
Can you share with us a little of your technique? How do you begin, and how do you go about developing a piece?
That is a great question I really wish I had an answer for, however sometimes I do not know... I have unorthodox techniques I use on every piece. I just know what needs to be done and I do it.
What I can say for sure is, I would start with NSP [non sulfurated Plasteline] Medium Clay, a shit-load of photo reference, and a desire to sculpt the person you are going to be sculpting.
DON'T lie to yourself-- if you let it just be "OK," then your sculpts will
be
just "OK."
If you have to make it again then do so, I do it on so many of my pieces.
I'm truly never 100% happy. An artist's work is never finished; it is abandoned.
Or maybe I'm just too deep into my work and need a vacation.
Are Hollywood images something you've always had a powerful artistic attraction to? Tell me a little about your relationship to movies in general. Have you worked professionally in Hollywood?
I have worked on some things for TV shows, and get requests to work on movies, but it's just not in me-- I like to work for myself; I feel it is more rewarding.
The pay is better, too.
My attraction is the feeling that has already been accomplished by the character in the movie-- an emotion has been set by what the camera has recorded…
For instance, if I sculpted an old man with his eye closed, and made him creepy-looking and called it "The Mortician," (as a piece of original art) the feeling would not be near as strong as watching Angus Scrimm as The Tall Man in the movie,
Phantasm.
The emotions were already placed by the actor and the filmmakers.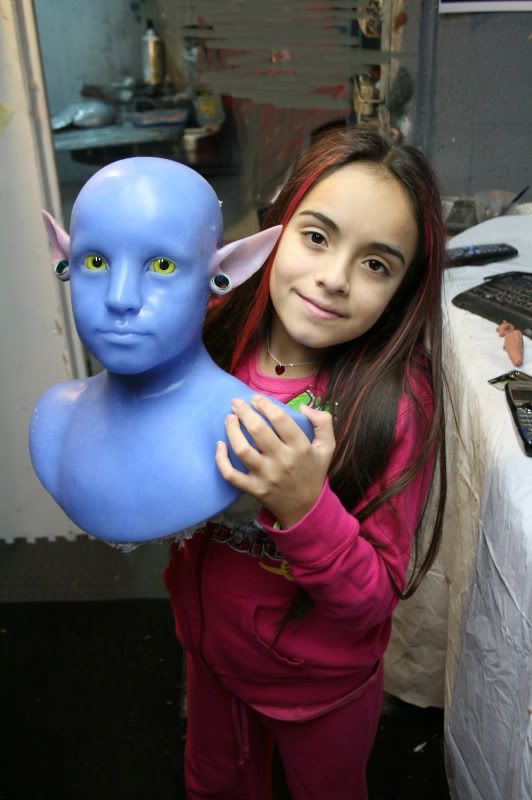 This current work in progress which employs your daughter's likeness as an Avatar-- I'm struck by how well you've managed to synthesize something as personal as this with something so commercially accessible, without any apparent strain to either the personal or commercial elements of the piece as a whole. Can you tell me about how your personal identity might serve as a guide to the Hollywood imagery you're drawn to, and how it informs the decisions you make as a sculptor?
Our family watches a lot of movies, and my daughter loved that movie, so I felt it would make a great combination.
Don't get me wrong-- eventually I would like to do some original art works, but for now, I really enjoy the movies and the actors I sculpt. Every time someone comes over, they have to say a line from the movie of the sculpture they are looking at… Sort of funny to hear some of the bad impressions.
How did you come to discover deviantART, and what's your experience been like with the site so far?
I was introduced by my friend Dave Williams,
BroHawk
-- you should really look at his artwork; inspirational.
I love this site. I go on it everyday; I use it for inspiration and to humble myself on what talent there really is out there. Also, it is nice to be critiqued by other artists that know what a WIP is, not on random boards where there is a lot of hatred and jealousy-- people that understand the
value
of the art. We give a lot of ourselves.
Online, sculptors have to be content with viewers experiencing their work through photography, and your work in particular, with its uncanny accuracy and depth of realism, calls out for viewers to be in the same room with it; are you currently represented by a gallery? Where can people go to see your work for themselves?
No galleries. I do take my work to show it at charities; for the Make-A-Wish Foundation for the kids; other than that, most of the time I finish something, it is gone the next day. However, I have started to finish one for myself after each piece is completed, so maybe in 2 years I could have 30 good pieces to show.
When I do a show next, I will put it up on my deviant page for anyone to come see it.
How important was art to you when you were a kid? Have you always been drawn to it?
When I was a kid I used to win art shows all the time, not for sculpting but for drawing; personally, I suck at drawing. Funny that I can sculpt, and not draw.
Who are your favorite sculptors? Have you had the opportunity to travel, and see work from your own favorite artists?
I think Jose Ismael Fernandez (excellent mechanical sculpture), Michelangelo, and a lot of people here on deviantART whose work I've saved as favorites.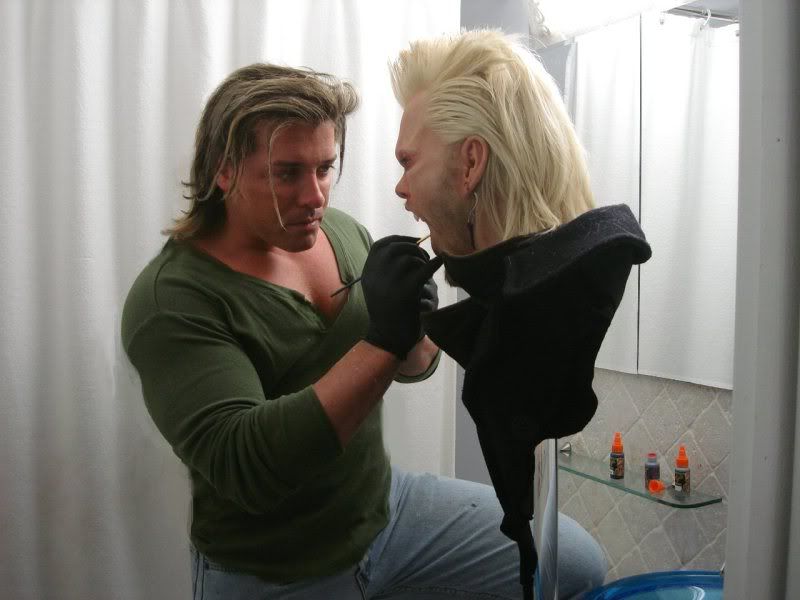 Was there a particular breakthrough moment in your development as a sculptor when you realized that you had something well beyond the ordinary to offer, and what can you tell me about that moment?
I think it was the Lost Boys: David piece. I loved that movie and loved the soundtrack; once I completed the piece, I could hear the music from the movie, and got some chills. I said, "I think I found my special purpose; what the hell can I sculpt next!!!"
Do you have any advice for artists who find themselves inspired by the work you've done?
Don't be afraid to fail a couple of times; I did and still do. If I had to do it again, I would take a course and get some books… Start by getting some tools at Kenstools.com-- not a sales pitch; just excellent tools.
On that note, thanks to everyone who has had a chance to read this; I hope I didn't bore you too bad. And thanks for the inspiration, deviantArt; this is an excellent gathering of some of the most talented people in the world.