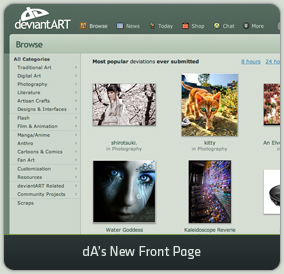 After much effort, arguing, designing, and programming, our front page is now better than ever! We've taken a close look at how our community interacts and made improvements to make new art even easier to discover. Quick-loading thumbnails and a faster, more reliable search are just a couple of ways we've made browsing an even more enjoyable experience.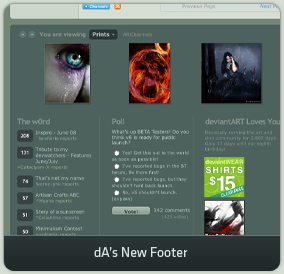 Our Footer is now a destination in itself! Offering direct access to News, Polls, and other community-specific features, this robust feature is extremely functional and also fun to use. You can also flip through your Channels, giving you a great at-a-glance view of your favorite types of art. But don't worry, if the Footer isn't for you it can easily be stowed.
---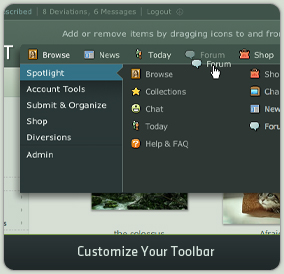 The typical site navigation has been completely reimagined. Customize your toolbar with drag-and-drop ease by selecting icons from the More Menu and placing them in the order you'd like. Don't want something in your toolbar? Just drag it away!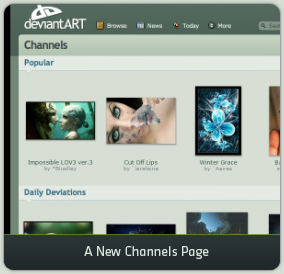 Our frontpage may be a whole new browsing experience, but that doesn't mean we threw out the old Channels view. We know a lot of people prefer a customized view, so we brought it back and updated its look and feel. It feels just the same way it always has, but now enjoys a more stable and bug-free code-base.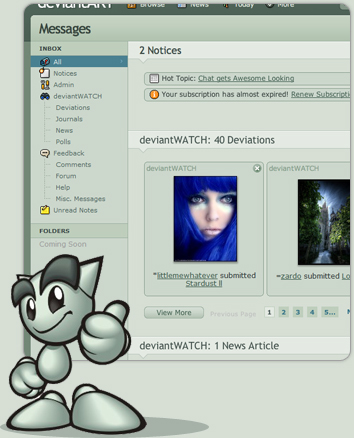 You've been clamoring, yelling, and threatening violence over our old Message Center and we've heard your cries! Our new Message Center has been rebuilt from the ground-up and is now better and easier to use than ever before thanks to the following improvements:
New sorting options to customize how you view your messages.
Create Folders and drag messages for easy categorization.
Remove messages immediately, on the fly, without having to use clumsy checkboxes.
Enjoy the power of the new deviantART v6 interface. It's very powerful. And please continue to provide us with the awesome feedback we've come to expect from the most bad ass creative community evaarrr!!
---
PLEASE NOTE: There may be some delay in receiving the v6 Message Center for some users. Message Center launch requires that we port all member messages for one database to another. There are nearly TWO BILLION MESSAGES to import!! We hooked up Subscribers first, but we've also made it so that active members who are currently visiting the site will be queued ahead of others. That's right! Simply by visiting and logging in, your Message Center will be bumped to the front of the line!
ALSO NOTE: DO NOT WORRY about your Message Center messages being lost! Even if something goes wrong, all Message Center messages have been backed up for you on multiple redundant clusters of servers.