(Hot off the Presses: CHECK OUT v6 SLEEK SCREEN SHOTS)
So my awesome girlfriend
JaninaZ
booked a guest star role on Stargate Atlantis where she kicks ass and chews bubble gum. Now I know what you're thinking about being out of gum, and while she quite effectively kills a bajillion creatures with her P90 machine gun, she somehow manages not to run out and continues blowing rock star bubbles.
:thumb84591000:
Anyway on Tuesday,
pachunka
mccann
and I went down to hang out on set. Here are some photos from the shoot.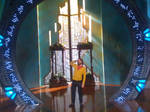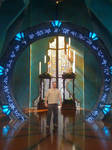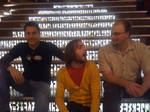 I have to say, WOW! What a fantastic group of people.... just everybody on set, behind cameras or running the joint just were absolutely wonderful. Full of generosity and sincere hospitality ... I've spent a lot of time on movie sets, tv show sets, etc. throughout the years living in Hollywood and this cast of characters (real life and scripted) were about as charming as it can possibly get. Maybe it's because we were in Vancouver.

:thumb84590929: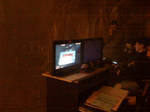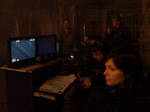 Anyway, many thanks to
Joseph Mallozzi
who is the Exec Producer and a wonderful guy for taking care of Janina while shooting and allowing
mccann
pachunka
and I to come down and annoy everyone on set; and especially for managing what seems to me like such a solid ship over at Stargate Atlantis. Mad props! Can't wait to see the episode!! (You can go over to
Joseph's blog
for even more photos, videos of Janina shooting a P90, etc.)

A couple shots of the set: