I am very excited to announce a strategic partnership between deviantART and Madefire, the leading Motion Book application in Apple's App Store. (iPhone & iPad)
Together with Madefire, we are releasing the Madefire Web Reader on deviantART in a new category on our front-page called "Motion Books." You will immediately find a dozen Madefire Motion Books there, with more books released each Wednesday.
Browse Motion BooksTM
---
deviantART & Madefire
are undertaking an epic journey
In the coming months, you will see many more Madefire Motion Books on deviantART as deviants gain access to Madefire's Motion Book Tool. When Madefire integration on deviantART is fully complete, deviants will be able to make, read, sell, and buy books and comics, and transfer them to mobile devices -- all within the deviantART experience.
We have every imaginable comic and book format on deviantART and the most advanced community of comic book artists, writers and storytellers. One of the Madefire founders, LiamRSharp, has been a deviant for six years and represents both an artist in need of this solution and one of the driving forces behind its creation.
The Story So Far...
For years we have been searching for the right way for deviantART to enable deviants to tell their stories. We have such incredible stories here on deviantART, and few true story telling tools to aid our Literature community and our Graphical community to come together in unity and develop stories together. We've been asked with great passion by our members to bring such a capability to deviantART for a long time.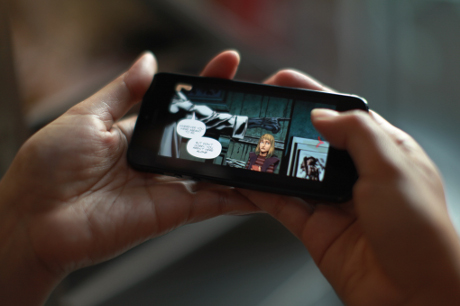 Many solutions we reviewed are backward focused on print strategy, where formats for publishing stories mirror the needs of paper printing. One of our challenges is that deviantART is a global, digital community that thirsts for great tools that enable digital story telling first. Digital-first means that a book is created for the purposes of being distributed digitally. Yet all digital-first tools didn't seem to take full advantage of new platforms.
We were immediately enamored with Madefire and its digital-first approach. It just looks so fantastic, exploding cells off the 'page' with the pop vibrancy that the comics style had always suggested, but never achieved until now.
Madefire's Motion Book Tool is Web-based, which inherently provides collaboration capability. DeviantART is obviously Web-based, and our new Sta.sh cloud storage solution already features Sta.sh Muro and Sta.sh Writer which will now be joined by Madefire's Motion Book Tool. Using Sta.sh, all of your files are easily accessible to you and (soon) your collaborators as you build Motion Books. You can easily use the deviantART Premium Content Platform to sell the books, and the stories you will create can be truly brilliant, limited only by your imagination!
---
Let Me Explain

How It Will All Roll Out
The Motion Books category is live now on the front-page of deviantART.
The Madefire Web Reader is available now, with the Premium Content Platform integrated.
Various books available inside of the Madefire iPhone & iPad App are released on deviantART now, with more books each Wednesday.
The Madefire iOS apps including iPad and iPhone are available for download.
Very limited access is available for the Madefire's Motion Book Tool which is just not ready for full release to an audience as expansive as deviantART. We will allow more and more creators in as the creation software becomes ready for the big time!
In two (2) months time an initial larger group of members (hundreds) will be given access to the tool for testing. These members will be selected randomly.
Based on feedback we will roll out the tool to thousands and then millions of deviantART members.
To gain access to the Motion Book Tool, simply +watch the MotionBookTool group and hang tight! Work on your comics and books as you have been, we will be reaching out especially to deviants who are posting their stories on deviantART already!

Ultimately, Madefire software will be available to all members for FREE and will permit you to convert existing static comics or books into Motion Books or create fresh new books using the tools! All books can be formatted for Web (deviantART), iPad and iPhone with support for other devices coming in the future. Unfortunately, Android is not currently supported. We decided to do "Web" first!

You will be able to make your Motion Books available for FREE or you will be able to use the Premium Content Platform to set a price and make money though the deviantART My Earnings interface. With the same free software, you will be able to simply convert your static books to the Madefire Reader. And soon, following the roll out plan the full Madefire's Motion Book Tool will be available to members, again for free, through Sta.sh so you will be able to build Motion Books from scratch.
You will then have the option of publishing Motion Books both on the web through deviantART and on mobile for the iPad and iPhone through Madefire.
I am really proud that deviantART is once again at the lead edge in giving artists the tools they need for extending their creative and financial career possibilities in the arts, while liberating their artistic independence through the ultimate collaboration with other artists.
The walls of traditional commerce that limited the practical distribution of your work and imagination are burning down. Now you can join with other artists and writers to build fantastically illustrated worlds, populated with the coolest characters engaged in the most exciting story narratives, coming to life with incredible sound and fury, and make your storytelling career a reality – without the benefit of massive personal financing or winding your way through the maze of the traditional publishing world.
After you've had a chance to sample Madefire Motion Books come back here and let us know what you would do with this medium or share with everyone who you would most like to see tell a story with a Motion Book. I have a few favorites of my own that I'll drop into the discussion once its gets started. For now, enjoy a great read.
Browse Motion BooksTM