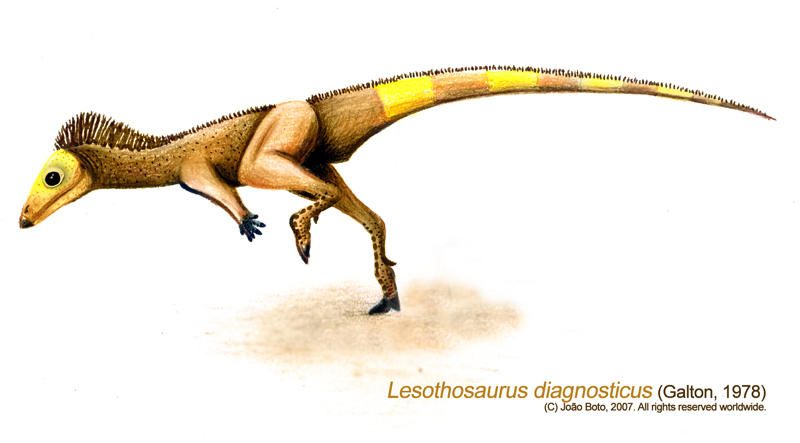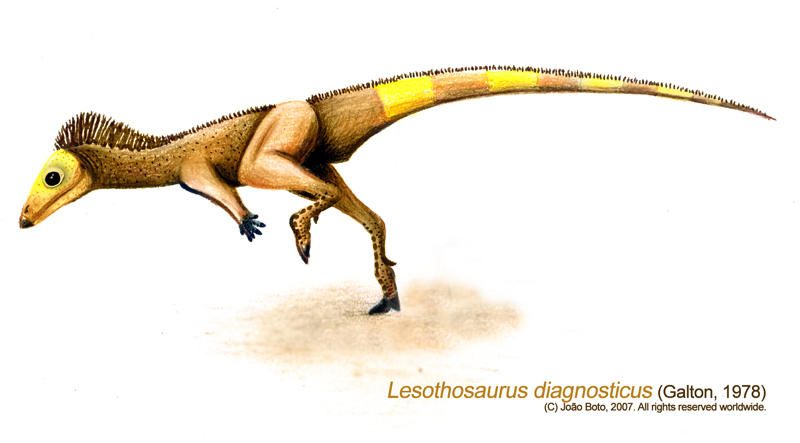 A small and primitive ornithischian from South Africa.
A description follows
"Lesothosaurus had a small head, perhaps with small, fleshy cheeks, ridged cheek teeth, and a horny lower beak. Long, toe and shin bones show that Lesothosaurus was capable of running extremely fast. In many ways, the creature resembled a modern gazelle - a defenceless planteater on the alert at all times for danger because the only means of escaping an attacker is instant flight at high speed.
The toe and shin bones are particularly like those of a gazelle. It is possible that the fossil bones named Lesothosaurus in 1978 are actually the same as those of Fabrosaurus ("Fabre's lizard"), named in 1964 from a worn piece of lower jaw. The skull had big cavities for the eye and jaw muscles, an opening in front of the eye, a short, pointed snout, and a lower jaw that may have ended in a horny beak.
Teeth slightly set in from the outside of the skull and mandible suggest there were small cheeks. Lesothosaurus was a small, primitive, lightly built plant-eater with some - but not all- of the features found in ornithopods rather than other ornithischians. The long tail is typically ornithopod. "
(Dinodata; (2006); digitally available at
[link]
)