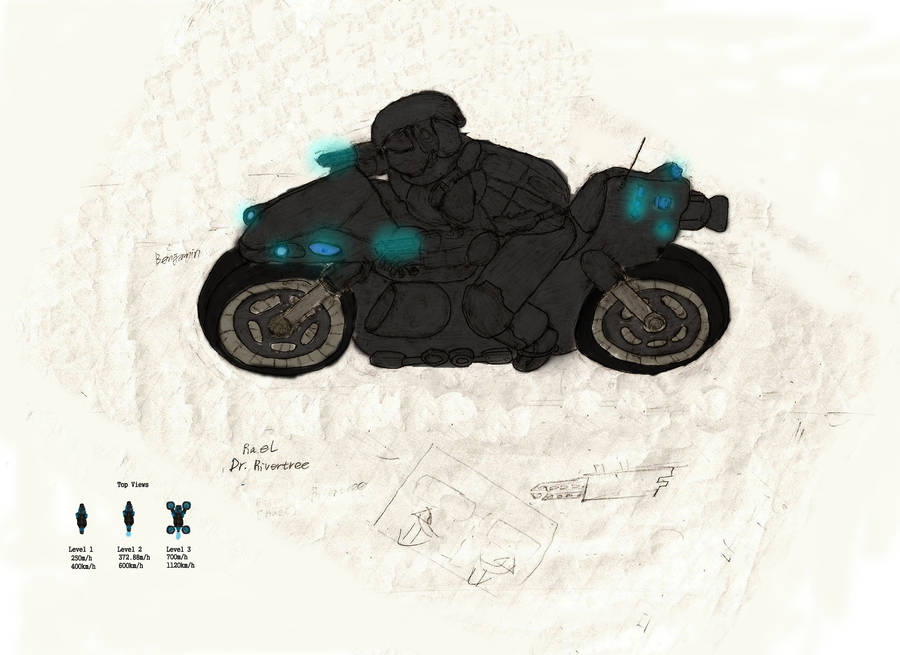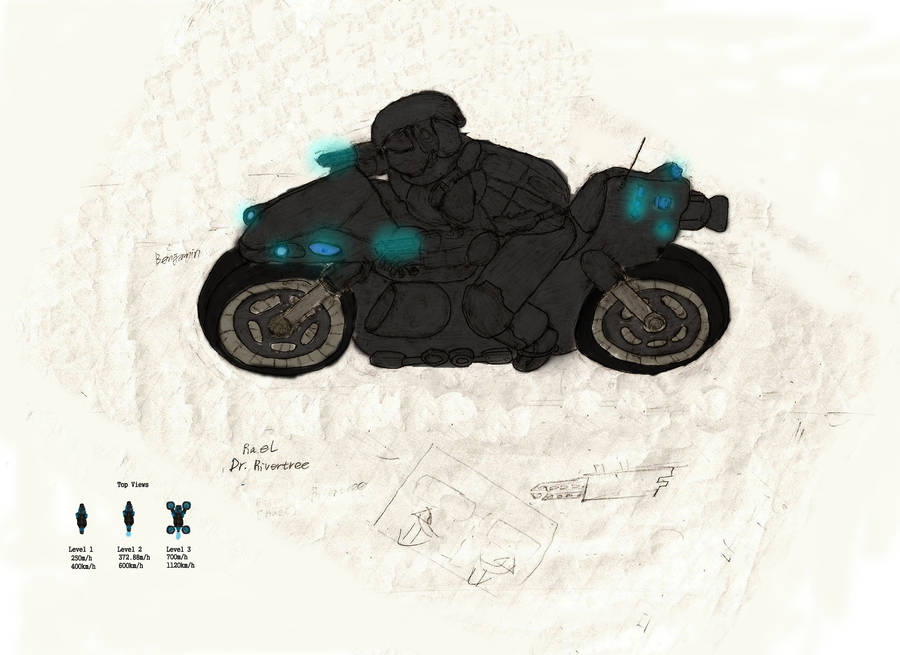 Rael Rivertree: Character Information
[link]
Dr. Rivertree, Rael and Robotic Flying Motorcycle "Bebe"
Level 1 speed: Just wheels = 250miles/h, 400km/h
Level 2 speed: Wheels and turbo engine = 372.8227 miles, 600km/h
Level 3 speed: Wheels' jet and turbo liquid air engine =
over 700miles/h, over 1120km/h as flying
Engine: ED - battery
[link]
level 1 engine speed has no sound of engine, but rolling sound on the ground.
level 2 and level 3 speed have jet bursting sound.
Tire: airless Tire
Weapon From Rael Rivertree: Digital Sorcery (Communicating physic, biological, and chemical reactions, by using computer programs)
Weapon From "Bebe": Air Blast, and electronic shock
Rael Rivertree has talents of mechanic engineering and software programming. When she was 16 years old, she bought and collected all metal elements, and transformed from elements to different materials via her computer programming knowledge.
She built the robotic motorcycle and programmed the automatic motorcycle brain system when she was 17 years old. The motorcycle is HER SON, "Bebe," and Rael can actually communicate with her motorcycle.
When you look at Bebe's tires, you can see line between Bebe's tire. It means the tire can split up and transform from tires to turbine jets in order to fly on ground on water, and on air. He can also jump with using the jet engine blast from his tail.
Rael's robotic motorcycle automatically controls itself although she does not hold Bebe's handle bar. Similar to Volvo System, the motorcycle automatically avoids any obstacles.
Rael Rivertree does not drive her motorcycle because she knows it will reveal her identity. In her town, she usually walks around cities and rides bullet trains, the public transpiration. However, When she goes to abandon country, Zerdun, which is full of unknown creatures since 2014, she should ride on Bebe. (Sometimes, she rides on the motorcycle in the lands of Mtossa especailly street racing.)
She is looking for Mizer which professor Goldmoutain, Jung created. The Mizer may be located in land of Zerdun, which has been abandon city since 2014. Professor Goldmoutain, Jung felt guilty during his lifetime because he created it under controlling by government during the invasion of Zerdun (2000-2014), and his crew of his plane dropped his creation. After the incident, the unknown creatures cause that many elves moved to Mtossa and rest of Zerdun survivors in the abandon land remained in underground. Mtossa soldiers in the land of Zerdun died and missing. He knew the outbreak is caused by Mizer. After his death, Rael Rivertree looks for the Mizer and solve mistake of Goldmoutain's life. However, unknown creatures and secret conspiracy in the history are waiting for her.